Pizza Chain Is Serving Up 'Just The Crust' And People Have SERIOUS Feelings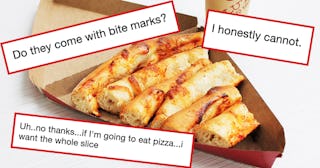 Villa Italian Kitchen and Twitter
Seriously though, where's the dipping sauce?
One pizza chain is taking their pizza game to the next level by offering a new menu item called "Just the Crust," which is, as you'd imagine, a bunch of pizza crusts in a box, and the people of the internet have some extremely deep feelings about it.
In an era where you can get stuffed crust, pizza pancakes, cauliflower, and even pizza bouquets, Villa Italian Kitchen has decided the world needs an option where there is no sauce, toppings, or cheese involved and introduced a crust-only choice for those who believe the pizza crust is the best part. Finally, their ship has come in — and it's got just the right amount of sauce and cheese bits to make it authentic AF.
"Highly coveted and a hot commodity, pizza crust is often saved as the last delicious doughy bites after a hot, fresh slice by carb-lovers everywhere," Villa Italian Kitchen said in its announcement. "After receiving a record number of consumer inquiries regarding Villa Italian Kitchen's crust and just what makes it so delicious, Villa Italian Kitchen decided to give the people what they want and serve up an order of crust all on its own!"
Let's break this down for a minute. The crust-only concoction is served in a single-serve slice box which is shaped like a piece of pizza, confusing even the most confident of pizza aficionados. It's also eerily similar to an item offered by pizza chains around the globe — a breadstick — but apparently, the fact that it's their actual pizza crust versus a breadstick-like recipe gives it a line on their menu all its own.
Of course, people have feelings about this strange and unusual new invention:
"To make the crust, we use our handmade, fresh dough and create the outline of our famed Neapolitan pizza," Mimi Wunderlich, director of communications and digital marketing of Villa Italian Kitchen, told Food and Wine. "Our staff of crust experts delicately position splashes of sauce and cheese around the outline, which is then baked to golden-brown perfection. We wanted to provide an authentic crust experience, which is why it is done this way."
They must have expected some level of outrage and many questions coming their way because their website's announcement starts off with "IT'S LITERALLY JUST THE CRUST" so you know they're over everyone's shit already.
"We are huge pizza crust fans at Villa Italian Kitchen," Wunderlich continued. "We know that the crust is everyone's favorite part of the pizza, so skipping straight to selling pizza crusts only seemed like the perfect idea." There's no mention of who "everyone" is and how they determined just the crust, and only the crust, is what we've been searching for all our lives.
Regardless, Villa is throwing caution to the wind and "Just the Crust" will be available on menus on Thursday, July 18, selling for $2.75 a box, but you'll likely have to spend a bit more for a side of dipping sauce because who eats crusts without something to dip them in? We aren't animals.
This article was originally published on