Having A Village Is Not What I Expected
by Lindsay Wolf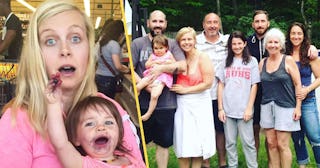 Courtesy of Lindsay Wolf
Of all the things that have surprised me as a parent, the hell that is FaceTiming with family takes the cake. I totally get video chats in theory for their economical ability to connect us with our long-distance loved ones. But I cringe every single goddamn time I hear the sound of someone ringing in to talk.
So many of my FaceTime sessions have been spent following my young daughter around as she drags the phone across the floor to give my siblings "a tour of the house." And then there've been the moments when my dad starts talking to me about the mundane details of his day at the exact time my toddler is scream-singing an original song in her birthday suit. The phone has been dropped numerous times by little hands, my patience has been seen visibly thinning as I multitask during every convo, and by the end of each video call, I'm ready to call it a night.
I'd been living on the West Coast for almost a decade, while everyone else in my family is back East and in a totally different time zone. Add to that the chaotic days of being a mom who works from home, and there's even less free time to connect. Parenting without a physical support system is so fucking hard, as so many of us know. My mom life sans extended family has been isolating as hell, difficult beyond belief, and more exhausting than I ever thought possible. I've wanted desperately to be able to have the ordinary moment of dropping the kids off at their grandparents or grabbing a quick dinner with my sister when I'm jonesing for it. But I can't even entertain the idea when there's been a six-hour plane ride to always contend with.
For so many reasons, the pressure I've felt to answer every video call is unavoidably real. I'm thousands of miles away from these people, and I miss the shit out of them. And I know my kids do too.
At the end of every talk, I've watched something that breaks my heart into pieces. My sweet four-year-old girl kisses and hugs the screen to say goodbye to each family member. Seeing my young child attempt affection with a piece of technology when I know she'd much rather throw her arms around her actual grandparents is strange and surprisingly painful. I just never expected that life would lead me to move out West, let alone have children there. And I never in a million years thought that my kids would live without the generational foundation I've always wanted for them.
I also never anticipated the curve ball of all curve balls that happened to me this past year.
Turns out, when you think you finally have life as you know it figured out, some new BS drops on your doorstep and forces you to adapt. I was frantically paddling in the deep end of the parenting pool, and I didn't realize how choppy the waters had become. All of a sudden, moving back home was up for discussion as a necessary decision for the sake of my sanity and family. And in the blink of an eye, those goddamn weekly video calls calls quickly transformed into a thing of the past.
Back in February, I reached a solo parenting breaking point as the pressures of my husband's job exponentially grew and my time alone with the kids multiplied. I had also lost a great creative gig that had been supplementing our household's income for two years, and we could no longer afford regular childcare. We were living in an expensive, but small, townhouse when I gave birth to my second child and kept jam-packing the endless toys, schedules, and people into a space we were clearly outgrowing. My anxiety and panic were through the roof, depression became a trusted friend, and the idea of totally disappearing was starting to look like a very attractive option.
I was burnt out in a way I had never known before, and our family's limited resources left me without an option to fully recover. That's when my dad, stepmom, and both of my husband's parents lovingly agreed to something that would change the course of our year. They were open to temporarily housing us if we wanted to live on the East Coast for a little while. Suddenly, the abstract idea of maybe one day going back home became a very realistic choice. And at the time, it felt like the only feasible way to bring me back to life and help our family.
Fast forward to this month, and things are looking dramatically different from the way the year started. After spending several months with our folks, we now live in our own spacious three-bedroom duplex that feels more like a house. We can finally afford full-time preschool for my daughter. My husband's parents live just ten minutes away from us, and we see them weekly. My son and daughter have sleepovers with their grandparents at least once a month, and my sister-in-law has been babysitting for us like a champ. I found a new job, go to regular therapy, and am currently on some life-saving anti-depressants. And we have a real yard for the first time that's filled regularly with the sounds of my toddler playing with our neighbors' kids.
All of this sounds like it should result in my immediate relief. But the act of accepting so much support after going at it totally alone for so long has been tremendously vulnerable.
My husband's extended family make regular appearances at our home, often bringing items to help us with our day-to-day lives. My mother-in-law is the sole reason we have things like extra toilet paper, most of our furniture, and coats for the kids. We have a whole team essentially cheering us on now in person, and it has felt unexpectedly overwhelming. And each time someone comes over, I feel it – the dread of thinking I owe them something in return.
It's become very uncomfortable, but necessary, to teach myself that in ideal situations, people just help other people. You can depend on loved ones to get you through. And the positive impact of having a village can outweigh even the best days of solo parenting. I, for one, am just not used to being able to depend on anyone too much, since I raised my kids without extended family for so long. I was accustomed to doing things like ordering groceries on an app, crying alone during full days with the kids when no one else could watch them, and pretending like I was okay to the world when I really wasn't.
Now, it's one thing to be open to receiving help. It's quite another to actively ask for it. My husband's parents are thoroughly involved with the kids and so wonderful to be around, but they have full lives themselves with ongoing work and responsibilities. So when the time comes to ask for them to pitch in with the kids, I don't always push the matter unless they have the room for it. And I'm still sort of living in disbelief that I even have them as an option.
It's been over six months since we moved East, and it's all still very much a work in progress. But now that I know what it feels like to be here, I wouldn't trade it for the world. I know that so many parents don't even have extended family to turn to, so the good fortune of it all isn't lost on me. I feel grateful every day that I get to wake up in a place where I feel seen, heard, and loved as a parent and human. And while it's felt tough at times to be away from everything I've known on the West Coast, this has easily felt like a second home to us.
When moms are conditioned to accept circumstances that negate true and lasting support, the society they are living in has failed them. I don't believe any person should have to do this parenthood thing completely on their own. We all need loving shoulders to lean on as we figure this shit out. Whether it's the family you were born into or the friends you've chosen to add to your squad, active and ongoing support allows mothers to trust that they'll be pulled back to safety whenever the parenting waters get too choppy.
Having family nearby may not be an option or the optimal choice for everyone, but it has most definitely worked for me. Being physically close to them has made a huge difference in my life and in the life of my kids. And I am reminded of this powerful truth every single time I get to see my daughter hug her grandparents without a phone screen in between them.
This article was originally published on