Your Vintage Pyrex Could Be Worth Good Money
by Cassandra Stone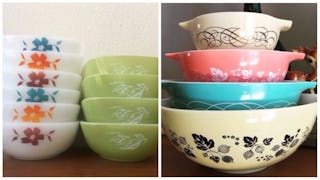 Image via Instagram
Check your cupboards, because your casserole dishes could be worth big money
If you've ever cooked a meal or stored leftovers, chances are you're probably familiar with Pyrex dishes. They've been a staple in every good ol' fashioned American household for over a century because they're known for their durability and longevity.
Who among us isn't still using our moms' Pyrex dishes? Well if you are, you should know that vintage Pyrex dishes could be worth big money. So go ahead and blow the dust off your Grandma Betty's bowls.
Vintage Pyrex dishes have been selling for nearly $2,000 on Etsy. Individual bowls and mugs are even selling for $700-$900, respectively. Vintage pieces featuring bright colors and floral or geometric patterns seem to be the top sellers.
Who doesn't have fond memories of a piping hot, Pyrex casserole in one of these dishes? They can still probably be found in many a cupboard nationwide.
https://www.instagram.com/p/BXD1nSihtZK/?tagged=vintagepyrex
Collectors are constantly sharing their latest finds on social media, and plenty of them are looking to make swaps or purchases for other vintage Pyrex items. The hashtag #PyrexJunkie has over 12,000 posts on Instagram alone, with people sharing dishes they've had for ages and other Pyrex goodies they've found through collecting.
https://www.instagram.com/p/BXCC8MbFir6/?tagged=vintagepyrex
If you've got any rare, vintage Pyrex pieces lying around, you could be sitting on a goldmine and not even know it. Or if you're looking to start your own collection, you better get yourself to the nearest Goodwill and see what vintage treasures await.
The highest-selling, most sought-after pieces are those made between 1915 and the lae 1970, before Pyrex changed its glass formula from the extra durable borosilicate to soda-lime.
Go ahead and pull out those pieces from the pantry and crawl into your cupboards to see what you find!
This article was originally published on