This Chicago Mom Is Transforming Violent Neighborhoods With A Volunteer 'Army Of Moms'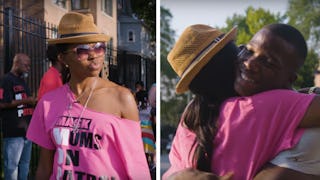 In June of 2015, a woman named Lucille Barnes was murdered. She was trying to break up a fight on the corner of 75th and Steward in Chicago's notoriously violent Englewood neighborhood, when a car drove by, shots were fired, and Barnes was struck and killed.
She was a 34-year-old mother.
Tamar Manasseh — a mother herself — decided enough was enough. Three days after Barnes's murder, Manasseh and an "army of moms" donned hot pink T-shirts and set up lawn chairs on that same street corner. They brought hot dogs and a grill and created an impromptu community cookout.
And they've been present on that street corner daily every summer since.
This mom army now has a name and a mission. Manasseh founded the organization Mothers Against Senseless Killings (M.A.S.K.) as a way to give kids in Englewood their childhoods back. She recognized that their memories of growing up on that block would be dominated by murders and arrests and an ever-present threat of violence if something didn't change.
So Manasseh and other M.A.S.K. volunteers set out to create that change. They show up at 75th and Stewart all summer long with sidewalk chalk and sports equipment, food, and lots of hugs. The idea is to transform the narrative of the neighborhood by creating a strong, vibrant sense of community. The goal is for kids to grow up as neighbors and friends, not targets and enemies.
And it seems to be working. "After just three summers on the block," wrote Manasseh in a recent New York Times op-ed, "violent crime and gun-related incidents in that census tract have declined dramatically. And this has had a ripple effect as far as a mile out. The neighborhood elementary school attended by a majority of our children has also seen improvements in student performance. All of this has happened with no real resources, new jobs or governmental assistance."
However, M.A.S.K. hasn't stopped at hot dogs and hugs. Manasseh has asked the community what it needs in order to put an end to gang violence. "They told us they needed resources, jobs and skills training," she said. "They told us they needed schools that could prepare their children to compete in a world that will soon be run by computers. They need a share of that $95 million planned for a new police and firefighter training center because now the community polices itself."
Manasseh says she's not an activist, just a mother. "This is that 'village' that we hear so much about but that has somehow been forgotten," she says. "These children are now my children too."
Saying she's "just a mother" doesn't diminish what she's been able to accomplish with M.A.S.K. We all know that moms know how to get things done. The impact of these mothers' presence and engagement in kids' lives makes a difference, engaging the community members to interrupt the violence in their neighborhood.
"A mother's love is selfless, annoying and always there," Manasseh says as she describes what M.A.S.K. is all about. "This is what mothers do best, get in the way."
Yes, we do.
Many successful initiatives have been founded by and run by mothers. Some, like Mothers Against Drunk Driving and Moms Demand Action for Gun Sense in America, have grown into large, policy-influencing organizations. Others, like M.A.S.K, make needed waves at the local level, rippling out to other communities with inspiration and ideas for change. M.A.S.K. now has volunteers working in neighborhoods around the Chicago area, as well as in Evansville, IN, Memphis, TN, and Staten Island, NY.
Obviously, gang violence is a complex, multifaceted issue that can't be completely solved with a community cookout. But infusing a neighborhood with love, hope, and a sense of belonging can make a big dent as we work on the socioeconomic inequality and racial injustices that contribute to violence in impoverished areas.
And who better than an army of mothers to create that kind of community? No one has as much fire as a mom fighting to protect children. And when we unite behind a cause, we become an unstoppable force.
As Manasseh says, "There's a sense of hope that they didn't have before, all because we're mothers. And you don't want to underestimate the power of the mother."
Indeed, we do not.