Viral C-Section Photo Reminds Moms Everywhere How Bad A** They Are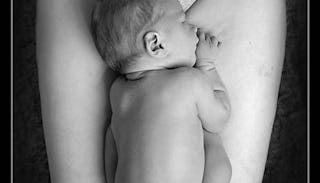 There are plenty of images of tiny babies being lovingly caressed by their parents. but not many of the scars from which some of those babies came. One photo has gone viral because it shows just that — and reminds us how powerful all kinds of birth experiences are.
Photographer Helen Aller captured an image of a newborn baby resting near his mother's c-section scar and shared the image on her Facebook page. She never imagined the reaction she would get. The photo has been shared over 61,000 times and "liked" over 200,000 times. Here it is:
She explains in the caption:
"I photographed this mama's pregnancy a couple of weeks back and she was telling me how terrified she was of having a c-section. Well over the weekend she went into labor but had to have an emergency c-section after losing a lot of blood. She asked me to come over this morning and shoot this particular image as her worst nightmare proved to be what saved her and her son's lives."
I've never bonded with a postpartum photo quite like this one. I don't have photos with my children immediately after they were born – or even shortly after. My first was an emergency c-section and I was so caught off guard by the whole situation that I didn't even think about capturing a postpartum moment. The surgery was very hard for me, and I was sad that I wasn't able to experience a natural birth. Also, as a result of the rushed surgery, I was in a lot of pain. It wasn't until months later that I was able to come to terms with how that birth went down. I started finally feeling proud of the body that carried me through a difficult situation.
C-section births are hard for some women – they just are. Having an image that celebrates what we've been through is very powerful. This mother and photographer tapped into something – they captured the beauty of a new life as well as the "battle scar" we get after bringing that life into the world. We truly are badass. We go through something as traumatic as major surgery and then turn around and nurture our children like it's no big whoop.
Moms are pretty incredible, if I may say so myself.
This article was originally published on