The Viral Christmas Card Only THAT Sibling Will Relate To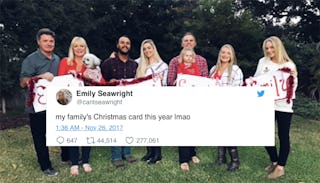 Image via Twitter/Emily Seawright
Every family has an Emily
It's that time of year where families are assembling and taking their annual Christmas card photo. Many use this opportunity to #humblebrag about what impressive things have happened over the last year or what's to come in the new year, and that means some family members are left out in the cold.
That very thing happened to one woman and instead of bemoaning her single, child-free life, she's celebrating it in the funniest way possible.
Emily Seawright shared her family's glowing holiday card photo full of thrilling information about her siblings — marriage, babies, and an excited couple about to watch two of their kids go through some huge life changes. But Emily didn't have any big news to share, and Twitter is right there with her.
"My family's Christmas card this year lmao," she writes. In the photo, two of her siblings and their spouses are holding up signs saying "engaged" and "expecting" while her parents hold a sign that reads "excited."
And Emily? Well, she's just fabulous "Emily," living her life with no big changes to share with the Seawright family's holiday card recipients, and judging by Twitter's reactions, she's so not alone in her child-free singledom. The replies were full of people cheering her on, giving alternate sign suggestions, and telling her this is their life too.
https://twitter.com/jetpack/status/935259358409015296
They definitely made sure Emily knew she's totally not alone in her Emily-ness.
It is, quite simply, highly relatable content.
Now let's make one thing crystal freaking clear — there's nothing in the world wrong with being "just" Emily or any other name. The fact that she's able to poke fun at her current life status as compared to her siblings is amazing, and we're grateful for her bringing such hilarity to our internet lives, but Emily being just Emily is wonderful, if that's the life she wants. We're here for any version of her, and hopefully, her family is too.
https://twitter.com/jetpack/status/935035332504051712
This article was originally published on