Viral Facebook Post Implores Women To Love Their Body 'As Is'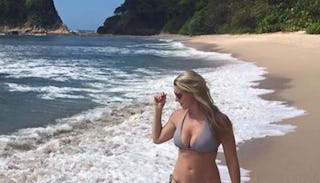 Viral post reminds us being thin doesn't make you immune to body image issues.
Thanks to the New Year and inevitable landslide of New Year's resolutions you may be seeing all over your Facebook feed, you may find yourself obsessing about the state of your body a little more than usual. One woman's Facebook post is going viral because it's a refreshing break from the messages that are swirling around after the new year.
The gist? Love your body as is.
Molly Galbraith, a certified strength and conditioning coach and co-founder of Girls Gone Strong, posted an image of herself in a bikini on her Facebook page after the new year. There's nothing revolutionary about that — she's in fitness and she's got an incredible body. But her message bears listening to:
"This is my body. This not a before picture. This is not an after picture. This just happens to be what my body looks like on a random Tuesday in December of 2015 — it's a LIFE picture," she writes. And her body looks great, but again — that's not the point.
She continues her post, talking about all the things her body has been through: PCOS, fitness competitions, late-night fast food binges, stress… all things we don't see when we look at a picture of a fit body on Facebook. She says, This is a body that has been called: too fat, too thin, too masculine, too strong, too weak, too big, too skinny …all within the same week."
It's easy to look at the toned body of a woman in a bikini and think she doesn't have any of the usual problems that plague those of us who don't look like this. But her post is a great reminder: it doesn't matter what you look like to others if you don't love the reflection you see. Ask anyone with an eating disorder. Do you think they see a realistic image when they look in a mirror? Most of us don't. It's why we're so plagued with self-acceptance issues.
"Some people say they would 'kill to have this body.' Others say they would 'kill themselves if they had this body.' (Yes, unfortunately that's actually a thing humans say to one another.) This is a body that I spent too much time, energy, and mental space wishing would look differently." How many of us can relate to that?
What if, today, you just let yourself be yourself and enjoy that person? What if you gave yourself permission to look the way you look — without judgment? Nothing else would change about your life if this inner dialogue changed, you just wouldn't be beating yourself up constantly as you went about your day. What would that feel like?
Galbraith concludes her post, "Today this is a body that is loved, adored, and cherished by the only person whose opinion matters — ME. This is the first year in as long as I can remember that I have made NO resolutions to change the way my body looks. This is a kind of freedom I didn't think I'd ever experience, and it feels really, really good."
Maybe our resolution should simply be to be kind to ourselves — because that's harder than any diet or exercise regimen out there.
This article was originally published on