Viral HONY Post Sheds A Light On The Unbreakable Bond Between A Mother And Child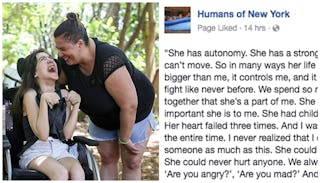 Humans of New York post highlights the powerful connection between a mother and her cancer survivor daughter
Humans of New York knows how to make us feel a wide range of emotions with just a single image, and their latest viral photo is no exception. Last night HONY posted a photo of a mother posing with her daughter, a child cancer survivor who uses a wheelchair.
"She has autonomy. She has a strong will. But she can't move. So in many ways her life is my life. It's bigger than me, it controls me, and it makes me fight like never before," the post says. "We spend so much time together that she's a part of me. She knows how important she is to me. She had childhood cancer. Her heart failed three times. And I was by her side the entire time. I never realized that I could love someone as much as this."
This mother's honesty about the realities of caring for a child with disabilities who fought so hard to overcome cancer has resonated with many. Since the post went up last night, it's gone viral. It already has over 4,000 shares and over 125,000 reactions.
Kids who battle cancer show strength and courage beyond their years, and the parents who support them along the way are amazing. They fight to hide their own pain in order to protect their child. This mother/daughter duo is no exception.
An estimated 10,380 children between the ages of birth and 14 were diagnosed with cancer last year. In 2016 the Nation Cancer Institute had a budget of 5.21 billion dollars. But there are a lot of cancers out there, and not enough funding to research all of them. In fact, it's estimated a mere 4% of the NCI's 2014 budget went towards researching childhood cancers. Cancer can strike anyone and the thought of not being able to cure these sick kids is maddening.
For those who are looking for a way to contribute to finding cures for childhood cancers, consider donating to a children's cancer research hospital like St. Jude's or Alex's Lemonade Stand, a foundation that gives grants for scientists working towards a cure for childhood cancers. If you can't donate money, consider donating your time or talents. Contact your local hospital to see if there are families undergoing pediatric cancer treatment that need meals or transportation to treatments. If you knit or crochet, hook up with an organization like Kozy Kaps 4 Kids. Or be a total badass and donate your own locks to help make wigs for children undergoing chemo.
Despite the disease her daughter overcame and the challenges she still faces, her mom explains how she handles her circumstances with grace beyond her years. "We always ask her: 'Are you angry?', 'Are you mad?' And she always says 'no.' She laughs when I laugh. And right now I'm trying not to cry. Because she'll cry if I cry."
This article was originally published on