Viral Science Experiment Shows The Magic Of Breast Milk
by Megan Zander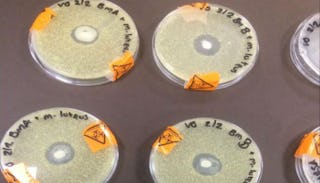 Image via Facebook/Vicky Greene
A microbiology student's photo of breast milk fighting bacteria is blowing people's minds
We've all been told that breast milk is great for babies. It's the perfect blend of nutrition, and breast milk contains antibodies that can boost your child's immune system and help them fight infections. Hearing this is great news, but seeing actual proof of this is even more amazing.
In a photo of a science experiment that's now gone incredibly viral, microbiology student Vicky Greene shows us exactly how a mother's breast milk works to protect your baby and fight bacteria. The first year biosciences student at South Devon College in Paignton, England shared a photo of nine petri dishes, all of which contain the bacteria M. Luteus. Greene added a breast milk soaked disk to the center of each dish. She used milk from two different nursing moms. The samples labeled BmA are from a mom who's nursing a 15-month-old. The BmB samples are from a mom who's nursing a three-year-old.
The results are clear, and pretty awesome. "The white spots in the middle are discs soaked in two samples of breast milk," Green explains in her post. "See the clear bit around the discs — that's where the proteins in the milk have killed off the bacteria!" Greene says she's conducted the same experiment with E. and MRSA bacteria with similar success. She plans on trying the experiment using colostrum soon.
The photo was posted a couple days ago, and it quickly went viral. People can't get over how incredible it is to see physical proof that breast milk helps fight infections for the babies who drink it.
There's no indication Greene deliberately chose her samples to include moms who are nursing children over a year old, but in doing so the experiment has a nice bonus purpose. For anyone who throws a side eye at moms who breast feed their babies beyond infancy, this experiment is proof that even older babies and toddlers still benefit from drinking breast milk.
While the photo is a pretty cool example of the magical powers of breast milk, at the end of the day, what matters is that a baby is fed, regardless of whether they drink formula or milk. Even if a baby is exclusively fed formula from day one, they still receive a immune system boost from mom. During pregnancy, antibodies pass to the baby through the placenta to help bolster their immune system from birth. So breast fed or formula fed, your baby still benefits from your antibodies.
We already knew women's bodies can do incredible things, but thanks to Greene and her experiment, now there's scientific proof.