Viral Post Nails Why Teachers Are Fed Up: 'This Is Why I'm Walking Out'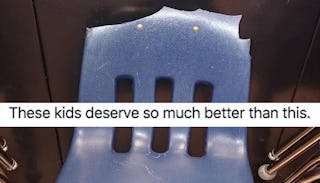 Image via Laurissa Kovacs/Facebook
Teacher Laurissa Kovacs shared why students in Oklahoma deserve better
Teachers in Oklahoma are planning to walk out of school on Monday – for very, very good reason. Educators are being ridiculously underpaid, schools don't have enough resources, and the state's current pay raise compromise just isn't enough.
A recent viral post from a teacher in Oklahoma shows just how badly the government is failing their school system. And it's definitely something teachers everywhere can relate to.
Middle school art teacher Laurissa Kovacs is currently making $27,732 a year. She teaches six classes each day and her classroom is often crammed with as many as 32 students. There's not even enough chairs to seat all those kids, and a lot of the chairs that they do have are almost completely broken. So, how is the Oklahoma government dealing with this issue? Well, for the first time in almost THIRTY years, the state is passing a tax hike to grant teachers an average raise of $6,000 and allocate $50 million dollars in education funds.
Many of Oklahoma's teachers feel it's simply not enough. So they plan to walk out next week to show that there's still so, so much work that needs to be done. They're asking for a $10,000 raise for teachers and $200 million in education funding.
If anyone needs any convincing that these pay bumps are necessary – just look at what Kovacs is dealing with. The teacher explained just how bad her classroom conditions have gotten in a Facebook post, which has since been shared more than 40,000 times.
"This photo is something every one of my students is familiar with," she writes. "This chair, or cheek-pincher, is what my students have to sit on. Most of the chairs in my room look like this. Once they get to this point it's only a matter of time before the bottom goes completely out."
Kovacs says her students deserve the opportunity of a great education, but when teachers are overworked and underpaid and not afforded what they need to teach effectively — both students and the teachers lose out.
"These kids deserve so much better than this. They deserve teachers who are qualified to teach. They deserve classes that are small enough that the teachers can actually spend some time with each student. They deserve CHAIRS."
Kovacs added that students really, really shouldn't have to go without qualified teachers, smaller class sizes, and chairs for gods sakes.
That is…completely, completely not okay. And yet it still seems like the government is turning a blind eye to the issues teachers are dealing with. The new bill that Oklahoma just passed, Kovacs noted, is "nowhere near enough to make an actual difference."
She says Oklahoma students deserve a quality education just as much as kids in surrounding states. "This is about so much more than a raise. It's about the future of Oklahoma. That's why I'm walking out."
If you want to help out a teacher struggling to keep her classroom afloat, Kovacs just started an Amazon wishlist for classroom supplies.