Viral Thread Beautifully Nails The Power Of 'Crazy Rich Asians' And Representation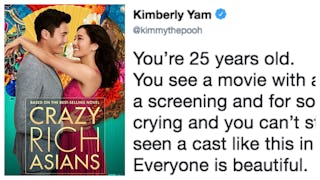 Image via IMDB/Twitter/Kimberly Yam
One woman's story perfectly demonstrates the importance of a movie like Crazy Rich Asians
Crazy Rich Asians opened in theaters across the country this week, and it's an important film for many reasons. Primarily because it's the first major motion picture to feature an all-Asian cast and an Asian-American lead in 25 years.
And that fact, while disheartening because it should have happened so much sooner, is why the representation in this film matters so much. A beautiful, emotional viral thread written by HuffPost editor Kimberly Yam shows just how much.
Not since 1993's The Joy Luck Club has Hollywood made a big movie featuring an all-Asian cast. Crazy Rich Asians is based on author Kevin Kwan's bestselling book — and the romantic comedy is already a huge bestseller with movie audiences just days after its release.
Yam took to her Twitter account to share her lifelong struggles with her Chinese identity, and what this film means to her. Warning: her story is beautiful, heartbreaking, and will make you cry.
Yam says after the Halloween incident, she was afraid of being seen as "uptight," so she pretended the incredibly offensive costumes didn't offend her.
She says her perspective began shifting once she went to college.
While in college, Yam says she spent time "repatriating" herself. She tattooed her family's name into her skin and says she refused to allow anyone to make her feel the way she did when she was a child. She says that's when she began to "love" being Chinese.
And she shares why a movie like Crazy Rich Asians matters so very much to her.
Kimberly Yam's story, her experience, and her feelings are why representation is so powerful and matters so very much. When people tell us these things, we need to believe them (Hollywood, I'm looking directly at you first). And many people are telling the world just that.
Constance Wu, the Taiwanese-American actor (also known for Fresh Off The Boat on ABC) is the leading lady in Crazy Rich Asians. In a recent interview with TIME, she perfectly nails why this film matters so much to Asians and Asian actors in particular.
"We are not supporting roles," Wu says. "We are stars on our own journeys."