Man's Heartfelt Tribute To Beloved Dog Goes Viral And Yes, You'll Need Tissues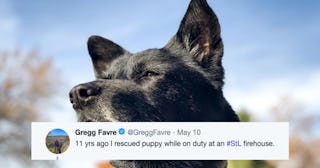 Twitter/Gregg Favre
He rescued Bella 11 years ago and they've been inseparable ever since
If you've ever experienced the loss of a beloved pet, you know how gut-wrenching it can be. Our furbabies are as much a part of our families as anyone and losing them is heartbreaking. Though it can be hard to find the words to express our sadness after they die, one Missouri firefighter did just that with a tribute to his dog, and it is everything.
"She passed away in my arms last night, peacefully, after a resolute fight w/ cancer," St. Louis Fire Captain Gregg Favre wrote on Twitter. He explained he'd rescued his pup, Bella, 11 years ago while he was on duty and that they'd "been inseparable ever since." What he wrote next will break your heart into a million pieces.
"We could communicate with glances and head nods. My wife would joke that it felt like we were ganging up on her," he continued in a series of tweets. "As life came crashing against our door –grad school, promotions, loss, injury & sickness– our routine stayed the same. She was always grounding. Always loyal."
Favre perfectly captures what our pets mean to us. They are eternally faithful and are happy just to be by our side. They're a constant companion and never ask for anything — all they want is for us to be happy and to give us unconditional love and support. When we lose them, there's a hole that opens inside us that is impossible to fill. We don't deserve them.
"I could spend weeks posting pictures & telling you stories of how funny, brave & tender she was," Favre wrote, sharing pictures of the time they spent together.
As Favre continued his tribute to Bella he admitted, as much as sometimes we'd like to forget, that "love & loss go hand in hand. Bella & I made the most of our time & I hope that in your life, you are cultivating your own brand of joy."
"Today we donated her unused cancer meds to other families who might not be able to afford the prescription," he said, urging people to donate to the Stray Rescue organization, the largest no-kill organization in the city of St. Louis, who rescue pets, most of whom have been abused and neglected.
Favre finished his tribute by posting a video dedicated to Bella's life (now would be a good time to grab those tissues), and read the poem he would often say to Bella during their time together, and once more as she passed away. "As I held her last night, before she slipped away, I told her once more, 'heart to chest.'"
The poem was created by a pair of young German students and aspiring commercial directors, Dorian Lebherz and Daniel Titz, who created a spec commercial for Johnnie Walker titled, "Dear Brother."
It says, in part, "Be near me, guide me, always stay beside me. So I can be free…Let's roam this place, familiar and vast. Our playground of green frames our past…We were wanderers. When every place was fenceless. And time was endless…promise me from heart to chest to never let your memories die."
Yeah, it's dusty in here alright. Now go hug your furbabies as tightly as your real babies.
This article was originally published on