A Man Bought Christmas Gifts For The Little Girl Next Door Before He Died
by Thea Glassman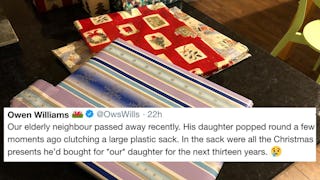 Image via Owen Williams/Twitter
This viral story about Christmas gifts will make you feel very, very weepy
Buckle up everybody, because you're about to believe that there's good in this world again. Owen Williams took to Twitter to share a story about his elderly neighbor, his daughter, and fourteen Christmas presents that will make you feel all kinds of emotional (in the very best way possible).
Williams began by explaining that his elderly neighbor Ken had passed away recently. "His daughter popped round a few moments ago clutching a large plastic sack," he wrote. "In the sack were all the Christmas presents he'd bought for *our* daughter for the next [fourteen] years."
Yup, this very, very sweet man had gone through the effort to bring fourteen years worth of holiday cheer for his young next door neighbor.
Williams turned to Twitter to see what he should do with this enormous gift haul. Give them all to his daughter now? Space them out every year? "My wife and I think it might make a nice Christmas tradition to give our daughter 'a present from Ken' for the next 14 years," he wrote. "Issue is, we really have to open them now. Nobody wants to give a fifteen-year-old Duplo!"
He created a poll and 52,850 people (and counting) weighed in as to whether or not Willams should unwrap the gifts.
https://twitter.com/jetpack/status/1074753626546020354
Many, many comments poured in from Twitter users who encouraged Williams to keep the presents unwrapped and give his daughter one of Ken's presents each year. Also, everyone was in agreement that this was by far the sweetest story that they had heard in a long, long time.
https://twitter.com/jetpack/status/1075019741759242245
Williams followed up to share some details about Ken, who was 83 when he died. He played the accordion. He was a former salvage diver, seaman, carpenter, and baker. And Willams' dog absolutely adored him.
"I mean, genuine visceral love," he wrote. "It was mainly due to the chocolate digestive biscuits he gave her on first meeting. She'd scream whenever she saw him. Really scream. Like a banshee. He'd call her 'my darling' and 'sweetheart.'"
Oh, and they did go ahead and start on the gifts.
https://twitter.com/jetpack/status/1074753626546020354
Welp, I'm officially done.
Here's hoping the Williams family has the best fourteen years worth of Christmases. They don't need Santa anymore…they've got Ken.