The Lifelong Impact Of Stranger's Kindness In This Story Will Floor You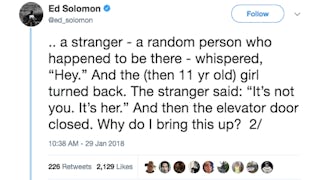 Image via Twitter/Ed Solomon
Viral Twitter thread shows the lifelong impact of a stranger's kind words
Many of us can recall singular moments in our lives that forever changed our perspectives. Experiences that, when reflected upon, carry so much weight and value we don't know where we would have ended up without them. Take the powerful story featured in this viral Twitter thread, for instance.
Writer and producer Ed Solomon shared a story on his Twitter account about a woman whose life was profoundly impacted by an exchange she shared with a stranger in an elevator when she was a child, many years ago.
The kindness shown by a single stranger in a single moment helped carry this woman through some of the toughest times of her life.
"It's not you, it's her." As someone who was raised by a toxic mother, this resonated with me on many levels.
The fact that Solomon says this woman feels it's "the only thing that's kept her going" at times proves how powerful positive interactions can be — even brief, seemingly simple moments in time like this one.
Many people on Twitter seem to agree, and shared their own similar experiences.
https://twitter.com/jetpack/status/958050448665137154
Sometimes all it takes is one person — a teacher, a mentor, a friend, or a stranger — to give people something to hold onto.
During the lowest point of my relationship with my own narcissistic mother, my closest friends were the first ones who quieted my inner vicious voice and pulled me to the surface of the toxicity I was, quite frankly, drowning in. Because of their strength and positivity, I was able to help pull my little sister out of it too and together, we learned to lean on the family members we could actually trust.
While I may not see or speak to those few friends as much as I'd like now, a decade later — I will never, ever forget what they did for me. Much like the woman featured in this thread, the unconditional love they showed me back then is something that keeps me going even now.
No matter how or why this thread impacts you, the lesson to be learned here is that nothing bad ever came from sharing a simple kindness. Positive impact matters, however small it may be.