Comments On Video Of Attractive Man Offering Storm Tips Are Comedy Gold
by Julie Scagell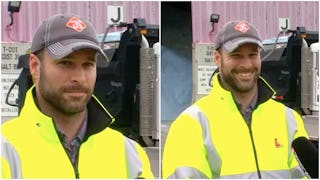 Image via WKRN-TV Nashville
The comments did not disappoint
As parts of the Midwest and Northeast brace for a horrific winter storm over the weekend, most of us in affected areas are glued to our TV and phones for constant updates on road closures, snow amounts, and record cold temperatures.
But it was a certain Nashville station that seemed to warm the cockles of our collective hearts by interviewing an, ahem, rather handsome Tennessee Department of Transportation employee.
"WATCH: TDOT is sharing their plans for this weekend's storm," WKRN Nashville posted on their Facebook page. While we appreciate any and all updates given, especially by those out there keeping us safe, it was the chosen TDOT and resident hottie that seemed to get everyone's attention.
Oh, hi there sir. I appreciate you're trying to provide some important information right now but my ears are ringing and my vision is slightly impaired but for the specimen in front of me. Wait, he's not just talking to me while maintaining full eye contact during the entire broadcast?
Obviously, he immediately took social media by storm (pun intended):
Turns out this hunk of burning love has a lovely girlfriend (with a wicked sense of humor) who did the world a favor by posting some additional (shirtless) pictures of him while he is cooking for her, because of course he is.
Which then prompted the funniest comment I've ever read on the internet, ever:
This is normally when I'd put some quotes in from his report but honestly, I watched it on mute because it's the weekend and I deserved this. Look at his adorable smile.
He looks so happy despite what has likely been hours and hours on the road salting and plowing and driving. Whoa, did someone turn up the heat in here?
Nashville was due for a mix of rain, sleet, and snow over the weekend and they were't alone. A state of emergency has been declared in Pennsylvania and New Jersey ahead of this storm's arrival, with freeway restrictions on many highways.
"Feet of snow, blizzard conditions, a significant build-up of ice, tree-breaking winds and plunging temperatures will close roads, cause flight cancellations and disrupt daily activities over a large part of the northeastern United States this weekend," Accuweather reports.
Seriously, this storm is no joke. Plunging temperatures, downed power lines, and deadly road conditions will make travel nearly impossible for hundreds of thousands across the U.S.
But back to the gorgeous (and very taken) TDOT man. What's even more entertaining than his disarming smile was the sheer number of close-ups the camera person got (not that we're complaining), as well as the sign in the background that says "unloading," "installed," and "truck" which looks more like, well, you know. Coincidence? I think not.
Congrats on the videos popularity, fine sir. And please oh please, can your gal continue to post regular (shirtless) updates?
This article was originally published on