Video Of Mom Defending Teen Who Joked About 'Shooting Up A School' Goes Viral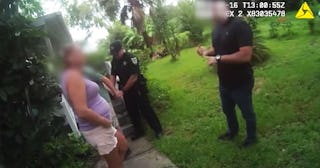 Volusia County Sheriff's Office/Youtube
Police hope this video will teach kids that school shooting jokes are serious and unacceptable
Police have released a video of a recent Florida arrest, and they hope it'll teach kids how seriously law enforcement takes school shooting jokes — or any perceived shooting threats at all. The video, which is now going viral, shows the arrest of an unnamed 15-year-old who posted a threat to shoot up his school in a chat in the popular online game Minecraft. Someone who saw it alerted the FBI, and the teen was soon arrested and charged with a felony.
In the video, his mother tries to defend him. She gets emotional as she tells police, "He's just a little boy." But it doesn't matter, because making that sort of threat is deadly serious.
In the Minecraft chat, the teen wrote, "I Dalton Barnhart vow to bring my fathers m15 to school and kill 7 people at a minimum." That's not his real name, but when the chat was documented via screenshot and shared to Discord, police and the FBI were able to track him down via his username. He was arrested at his home in Ormond Beach, Florida.
In a statement, the Sheriff's Office reiterated that school shooting jokes have to be taken seriously by authorities in a time when public mass shootings happen nearly every day in America.
"After the mass violence we've seen in Florida and across the country, law enforcement officers have a responsibility to investigate and charge those who choose to make these types of threatening statements," they said.
In the video, though, officers struggled to convince the boy's mom of how serious it was that he was making school shooting jokes.
"He's just a little kid playing a video game," she said.
The detective on scene replied, "And all these kids keep getting arrested. That's why the FBI and the local law enforcement are spending so much time on this, because how do we know he's not going to be the kid from Parkland…that he's not going to be the next kid, the kid that shot up Sandy Hook. We don't know that."
While the 15-year-old is younger than many mass shooters who have made headlines, he's still just three years away from being a legal adult, and it's definitely not unreasonable to think it's possible he could commit an act of violence like a school shooting. His mom keeps insisting he's not "that kid," but the fact is that police have no way of knowing whether a school shooting joke is actually just a joke, or if it's a serious threat, especially when it's posted anonymously online. They have to take this kind of situation seriously, because what if they didn't, and the kid in question actually did commit some kind of violent act?
"From a law enforcement perspective, after the tragedies we've seen here in Florida and across the country, we just can't have the luxury of tolerance for jokes about mass shootings, because so often they can be indistinguishable from actual threats," a Sheriff's Office spokesperson told Buzzfeed. That's what matters here. Police don't know what's a real threat and what isn't, so they have to err on the side of making an arrest and keeping kids safe.
Police are hoping this video will help spread the message that making school shooting jokes — or any other threats of violence — is unacceptable in 2019. This is just the world we live in. With the threat of the next shooting always looming, a "joke" can no longer be treated as one.