Dad Comforts Child After Paris Attacks: 'They Might Have Guns But We Have Flowers'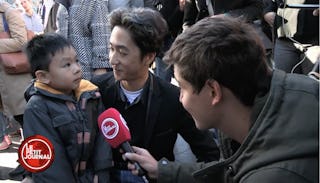 Many of us are still struggling to make sense of last week's terrorist attacks in Paris, but this touching video of a father explaining the situation to his son might be the only interpretation we need.
A reporter from a French television show called Le Petit Journal was interviewing people at the Bataclan Theater memorial when he asked a young boy if he understood why terrorists attacked people last Friday. The boy — identified by the Telegraph as Brandon Le — was visiting the memorial with his father and explains that terrorists killed people because "they're really really mean."
He goes on to point out that "bad guys are not very nice" and now his family will have to "change houses" because the bad guys will come after them with guns. That's when his father steps in to reassure him and offer a beautiful explanation of the way the good in humanity always prevails.
He tells Brandon that France is their home, and that terrorists "might have guns, but we have flowers." He points out the flowers and candles around them and explains to Brandon that these offerings protect them. As they talk, Brandon realizes the memorial is there not only to honor the people who died, but also because love and goodness are the most powerful shield of all. You can see the moment of recognition in his face, and once he gets it, he tells the reporter he feels much better.
As hard as it is for us to comprehend these senseless tragedies as adults, it's even more difficult to explain it to our kids. It's so hard to tell them not to be afraid when even us grown-ups are fearful and uncertain. Brandon's dad not only handles the conversation in a way that's reassuring to his child, but also to every single person watching.
They might have guns, but we have flowers.
In an ideal world, we wouldn't need to have these talks with our kids. But if we do have to exist in a time and a place where violence floods the airwaves daily, I'm glad there are parents out there like this one, raising their kids to believe in kindness, love, and hope for a better tomorrow. Maybe if enough of us pass this beautiful message on, the flowers really will protect us and the future will be that much brighter.
This article was originally published on