Virgin Atlantic Finally Stops Making Flight Attendants Wear Makeup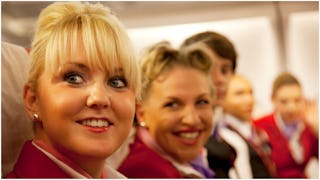 Image via Getty/Mike Kemp
Virgin Atlantic flight attendants are no longer required to wear makeup
So, it turns out that Virgin Atlantic female flight attendants have actually been required to wear makeup while they're on the job. Pause for eye rolls. Thankfully, the airline has finally listened to employee feedback and reversed this completely sexist, retrograde policy.
Virgin Atlantic made their announcement about the makeup change this week, and also noted that female flight attendants would be provided pants as part of their uniform. Before this change, attendants would have to put in a request for pants in lieu of the skirts they were given.
"We want our uniform to truly reflect who we are as individuals while maintaining that famous Virgin Atlantic style," Mark Anderson, an executive vice president with the airline, explained in a statement. "We have been listening to the views of our people and as a result have announced some changes to our styling and grooming policy that support this."
Virgin Atlantic's former policy used to require that women wear – at minimum – blush, mascara and red lipstick, according to The New York Times.
"Not only do the new guidelines offer an increased level of comfort, they also provide our team with more choice on how they want to express themselves," Anderson said.
People across Twitter were happy about this very, very important step forward – but were also completely baffled that there was even a makeup rule in the first place. They felt like this change was maybe, like, a century late.
https://twitter.com/jetpack/status/1103155687457198080
Virgin Atlantic isn't the only airline guilty of dictating the clothing and makeup that their female flight attendants wear. British Airlines recently ditched their no pants policy for female flight attendants, though the women are still required to wear makeup. Also, the airline El Al forces female flight attendants to wear high heels while they're greeting passengers on the plane.
"The request is utterly unreasonable. It's even dangerous. In winter, especially, the jetway to the plane is wet and dangerous for us," a flight attendant told Israel Hayom. "… Boarding is long and intense. The whole process has to be quick, and [high heels] pose a risk to the flight attendants as well as the passengers. Service won't be affected if we wear flats."
It keeps getting worse. In January, Pakistan International Airlines sent out a memo to crew members telling them that they had six months to lose weight. Mashhood Tajwar, a PIA spokesman, told CNN that this requirement was enforced in order to keep their employees "slim, smart and fit."
The memo noted that there would be a weight check of all the cabin crew and "comprehensive data will be maintained for perusal of management."
Okay, enough is enough with all this. Literally all passengers care about is that they have a safe, comfortable (on time, if that's not asking too much) flight. Body shaming crew members and forcing them to wear certain make up and clothes is completely, ridiculously unnecessary. Glad to hear airlines are slowly catching on to that fact.