Police Issue $100 Ticket To Driver Smoking With Child In The Car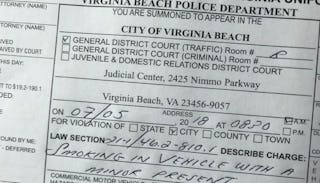 Image via Twitter/VBPD
If you're caught smoking in your car with minor passengers, get your checkbook ready
If you are smoking in a car with your child in Virginia Beach and get pulled over for a traffic violation, be prepared to get slapped with a big fine. Police there are cracking down on adults smoking in cars with children present, and they want the community to know they're watching.
The Virginia Beach police department posted a photo of a recent ticket they issued on their Twitter account, writing: "Protect your children and keep $100 in your pocket! #NoSmoking #WeAreWatching."
The law went into effect in July of 2016 and since then, Virginia Beach police have issued over 20 tickets of this kind, WAVY-TV reported. The law states that drivers must first be pulled over for a traffic violation, but that "it is unlawful for a person to smoke in a motor vehicle, whether in motion or at rest, when a minor under the age of eight is present in the motor vehicle. A violation of this section is punishable by a civil penalty of $100 to be paid into the state treasury and credited to the Literary Fund," the law states.
And while there is no federal law banning smoking in a car with children present (it is up to individual states), according to FindLaw.com, there are many other states taking action to prevent the damage secondhand smokes causes. In Arkansas, it's illegal to smoke in a vehicle when anyone 14 years old is present. In California, it's 18 years old and in Louisiana the cut-off age is 13. Other states like Maine, Utah, and Vermont have similar laws, all varying in age.
While there could be some who feel the law is too invasive and infringes on a parents' right to behave how they see fit around their own children, the risks of inhaling secondhand smoke, especially in a confined space, are undeniable. According to the CDC, approximately 2,500,000 nonsmokers have died from health problems caused by exposure to secondhand smoke since 1964. And for kids specifically, the risks include ear infections, more frequent and severe asthma attacks, respiratory infections, and a greater risk for sudden infant death syndrome.
What's more, when someone chooses to smoke in a small, confined space like a car, "people breathe toxic air at levels many times higher than what the EPA considers hazardous, even when a window is down," the American Nonsmokers' Rights Foundation noted.
At the end of the day, it's a choice. Choosing to smoke in an enclosed space where your children can't escape the impact is making a choice for them, too. It may never cause an issue with their health, but is it worth it to take the chance?
This article was originally published on