A Stress-Free Guide To Enjoying Virginia's Best Family Beaches
by Team Scary Mommy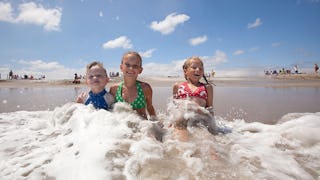 BILL CRABTREE JR.
You've heard the saying "Virginia is for lovers," but that doesn't actually refer to romance. It refers to lovers of experiences such as walking in historic footsteps, getting dirty in the great outdoors and reconnecting on fun, family vacations. With beaches big and small, offering everything from boardwalk bike rides to fireside marshmallow roasting, Virginia is made for making lasting memories in the great outdoors. Whether your kids are still in diapers or already have their own YouTube channels, there's a beach destination in Virginia that's perfect for your family's next vacation.
Virginia Beach
Despite its straightforward moniker, Virginia Beach is actually made up of seven distinct districts and multiple gorgeous beaches, as well as loads to do when you've had your fill of playing in the sand.
Head to the iconic King Neptune Statue for an Instagrammable family photo, keep your eyes peeled for dolphin sightings in the Atlantic Ocean or rent bikes for a ride along the boardwalk. Other exciting nearby amenities include the Ocean Breeze Waterpark, which features 16 waterslides, a wave pool and water playground — your gang won't want to leave. For a bit of history and educational fun, try Cape Henry Lighthouse (just remember your ID as it is located on the Fort Story military base) or the Virginia Aquarium and Marine Science Center. You're sure to find a place to relax and grab a bite to eat after a long day of learning; the city's food scene (think fresh seafood as far as the eye can see) is booming.
Sandbridge
Quieter than Virginia Beach, and with more vacation house rentals than large resort hotels, Sandbridge is the ideal choice for a chill family vacation. If your squad is the type to bring books and umbrellas to the beach, find a waterfront cottage and unplug from the hustle and bustle of life back home.
For family-friendly outdoorsy activities, visit Little Island Park. Pack a picnic and your poles for some fishing on the pier, or pitch a tent at the North Bay Shore Family Campground, where you can kayak or canoe before settling in next to the campfire with your s'mores supplies. Both kids and pets are welcome at this cozy campsite.
Cape Charles
Possibly Virginia's best-kept beach secret, Cape Charles offers clean and shallow bay waters that are safe for small children, letting you rest easy while your kiddos play in the calm wading pools of this beach. This quiet area of Virginia is ideal for families with young children thanks to its waveless waters, or those traveling with grandparents who might appreciate a laid-back getaway.
Dine on locally caught seafood at The Shanty, which has a kids' menu available — because let's face it, your 4-year-old isn't about to eat a raw oyster. If you need to cool down with dessert, stroll over to Mason Avenue and grab a cone at Brown Dog Ice Cream then pose for a photo op next to the LOVEwork, an art installation featuring materials that represent the region, like sea glass and kayaks.
Assateague Island National Seashore
Look no further than Assateague for windswept, white sand beaches and stunning greenery. Encourage the kids to keep their eyes peeled for some of the rare, protected bird species that call this coastal area home. And don't forget to keep your ears open, as well — you might just hear the whinny of the region's wild ponies, who are descendants of the original Chincoteague herd.
Many of the beaches are patrolled by lifeguards, ensuring a safe swimming environment for you and your little ones. Plus, while you're there, you can enjoy a range of activities from casual seashell collecting to canoeing and horseback riding.
Colonial Beach
Home to the second largest beach in the state, this quaint town enjoys views of both the Potomac River and the Atlantic Ocean. Colonial Beach is also the perfect place to show your kids a little American history, as it's the birthplace of President James Monroe and the summer home of Alexander Graham Bell.
Once you're done taking in the history of the town, be sure to pop into some of its many charming shops and restaurants. Stop by High Tides on the Potomac to enjoy some local fare while taking in a view of the riverside. After you're done exploring the town, be sure to stop by one of the area's 10 marinas where boat rentals, stunning sunset views and live music events are at your fingertips.
With oceanside options and state parks galore, Virginia has a beachy destination to fit your family's unique needs. Quiet and nature-filled, packed with adventure and exploring or a combination of the two, your visit to a Virginia waterfront is sure to be a highlight on your next vacation.
This article was originally published on