OB-GYN Allegedly Performed Unneeded Hysterectomies And Tied Women's Tubes Without Consent
by Leah Groth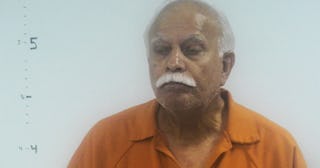 Western Tidewater Regional Jail
An OB-GYN in Virginia has been accused of tying female patient's fallopian tubes and performing hysterectomies on them — without their consent or even knowing the procedures had occurred.
According to legal documents obtained by Buzzfeed, Javaid Perwaiz, 69, performed surgeries on 510 patients between January 2014 and August 2018, with 42 percent of them receiving two or more surgeries, authorities said. Many of the patients underwent more than one procedure. According to many of these patients, the doctor scared them into going under the knife, claiming that "onset of cancer was imminent." In fact, many of them weren't even informed that the surgeries — including hysterectomies and having their fallopian tubes tied — were performed on them, learning about them much later.
The court documents outline one case of a woman who went to the doctor for dilation and curettage surgery, believing she was suffering from endometriosis. She later returned to Dr. Perwaiz to treat an ectopic pregnancy.
Eventually she went to see a fertility specialist "who advised her both fallopian tubes were burnt down to nubs, making natural conception impossible." It is thought that Perwaiz removed her fallopian tubes without her consent — and never even told her.
Another woman was told by Perwaiz that she had a high risk of cancer and needed a full hysterectomy. She reportedly "objected to invasive surgery," and instead agreed to have her ovaries removed. However, when she woke up after the surgery, she was "shocked to discover Perwaiz performed a total abdominal hysterectomy." Even worse, is that Perwaiz allegedly punctured her bladder during the surgery, which resulted in her contracting sepsis. When she went to look at her medical records, the doctor had listed it as "elective surgery" — with absolutely no mention of any cancer.
It is unknown if any of Perwaiz's patients did any research into his past, which was speckled with red flags. According to court records he previously lost admitting privileges at Maryview Hospital in Portsmouth, Virginia, "due to poor clinical judgment and for performing unnecessary surgeries in 1982," and was also investigated by the Virginia Board of Medicine on another occasion for doing the same thing he is currently accused of — "for performing surgeries, predominantly hysterectomies, without appropriate medical indications and contrary to sound medical judgment." Apparently he got out of that, with "poor record keeping" to blame. But that's not all. In 1996 he lost his medical license for tax evasion, and has been sued for malpractice a whopping eight times.
Most recently affiliated with Bon Secours Maryview Medical Center and Chesapeake Regional Medical Center, as of Monday, he was been removed by both websites. As of his arrest on Friday, Perwaiz had been affiliated with Bon Secours Maryview Medical Center and Chesapeake Regional Medical Center, the Virginian-Pilot reported. However, a spokesperson for Bon Secours Maryview pointed out to BuzzFeed News that Dr. Perwaiz was "not employed by Bon Secours or Bon Secours Medical Group. Like many independent physicians, he has held privileges at different hospitals/health systems."