Virtual Schooling Is Here To Stay, Even After The Pandemic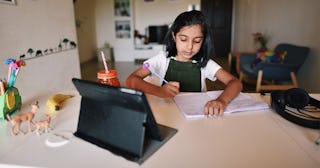 wMayur Kakade/Getty
For so many kids, going to school every day can be really hard. Some are bullied, some have learning difficulties, and others just don't thrive in a traditional school environment. Before the pandemic, some families had few options to educate these students. Now, many schools are creating more opportunities for their students, including online schooling. This virtual learning model is giving students the chance to be part of the classroom while learning remotely. Districts are sometimes coming up with their own curriculum while others are modeling successful online schools.
According to the New York Times, "Last spring, as the coronavirus spread, districts began seeking ready-made digital curriculums. Many turned to established providers like Florida Virtual School, a 24-year-old online-only public school that offers free instruction to in-state students and franchises its courseware to hundreds of other districts."
Online school is appealing to many because it gives students, and their parents, a chance to learn at their own pace and on their own time. Kids have a variety of learning styles and patterns. Online school can be the answer to their needs. Many parents want this type of learning to be a permanent option for their families.
But, there are questions as to how well this approach is going to work. Sometimes national online schools are not as successful as a traditional school environment. They are often self-directed, which can be a problem for many students. This works well if you are a student who prefers to do things on your own, but if you like to be involved with your classmates, it is not as appealing. And if a student's internet connection is spotty, or they live with enough financial insecurity to potentially be without internet at home sometimes, that throws in an extra wrench.
"I've had several students already say that they were really nervous they were going to fall farther behind in a specific subject because they think distance learning is going to be really difficult," teacher Rachel Cooper told The Atlantic.
In St. Louis County, Missouri, The Parkway School District — the third largest district in the area — is offering virtual learning to its students indefinitely.
"Parkway has about 17,500 students and is the third largest school district in St. Louis County. Based on feedback from our community, we will continue to offer both in-person and virtual learning opportunities for students next year. Currently about 10% of our students have chosen to attend what we call 'Virtual Campus' for the 2021-22 school year. The feedback we have received is that virtual learning better meets some students' learning needs and they prefer to participate in school virtually. We will continue to offer a virtual option for families as long as the need is there," Paul Tandy, chief communications and emergency management, told Scary Mommy.
According to The Times, of the 13,000 school districts in the US, several hundred have established virtual schools this year. Many of these programs are being developed as long-term options, meant to continue after the pandemic subsides. These programs are not just virtual learning like many districts have in place now; these types of online schools have their own teachers who teach a curriculum exclusively to students remotely. There is no in-person crossover.
Virtual schools are in high demand. Many parents are still not comfortable sending their children back to school next year due to COVID-19. Others plan to keep their students at home for the long haul. School districts across the country are meeting that demand and accommodating those students who want to pursue online learning.
One of the country's largest school districts, Fulton County Schools in Atlanta, has big plans for its new online school. They are prepared to enroll 1,000 students in the fall. The school will be called Fulton Academy of Virtual Excellence, or FAVE. This is in response to an increased interest for virtual learning opportunities for students. According to the FAVE website, an entire new team of educators and administrators have been hired to lead the new program.
But there are drawbacks to an online-only education. Students do not develop the interpersonal relationships with classmates and friends that they do when in the classroom. Even those students who like virtual learning and are successful say that they miss being around their friends. But despite all of this, the demand continues to grow.
As reported by Census.gov, "Nearly 93% of people in households with school-age children reported their children engaged in some form of distance learning from home." That is millions of students, and many want to keep it that way.
Whether virtual schooling will be the way of the future or a pandemic-friendly option remains to be seen. Many love it, others hate it. Some say it is promising, critics remain doubtful that children who engage in exclusive online learning will be successful long term. But many families will continue this way of learning for as long as they can — because for their children, it just makes sense.
This article was originally published on