VP Harris Is Getting Sh*t Done, And I Am Here For It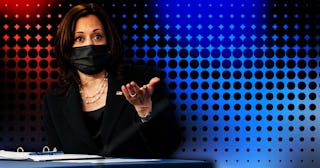 Scary Mommy and Kent Nishimura/Los Angeles Times/Getty
On Inauguration Day this past January, my family and I were all in different places. I was working remotely from home. My wife, a hospital chaplain, was at work with patients, and our kids were in school. We could not be together in the same space, but we had our Biden-Harris hoodies on, and our daughters were wearing their Kamala t-shirts. We were ready for this moment, this new administration — ready for a Black, South Asian woman as Vice President, to remind us that progress is possible.
Vice President Harris was a visible, vocal partner to Joe Biden during the campaign, and made history with her victory speech in Delaware on Nov. 7th, 2020. Since the inauguration, though, what has Harris been up to? What is her job exactly? Other than being "next in line" in case anything should happen to the boss, what is the vice president even supposed to do?
The answer is, it's largely up to each president and vice president to decide what role the VP will play in the administration. Biden himself, when he was vice president to President Obama, took on projects like implementing the economic recovery plan and overseeing foreign policy. These first 100 days of the Biden-Harris administration have been a chance to establish what Vice President Harris's duties and responsibilities will be.
For instance…
1. Tie-Breaker in the Senate
Apart from being next in line for the presidency, this is the one job actually given to the vice president in the Constitution. When a Senate vote is tied, Vice President Harris gets to cast the tie-breaking vote.
Some vice presidents get to break more ties than others: VP Mike Pence did it 13 times, while Biden never got to break any ties at all when he was second-in-command to Obama. But there's every reason to believe that Harris will have plenty of opportunities. The Senate currently has 50 Democrats and 50 Republicans. That 50-50 split ensures that the Tie-Breaker-in-Chief will be heading down to the Senate chamber on a regular basis.
It happened just last month: Vice President Harris was called out of a meeting in the Oval Office to cast the deciding vote on President Biden's $1.9 trillion COVID-19 relief plan. Biden himself deserves a lot of credit, no doubt, for the law that will lift the financial burdens for struggling Americans, help them to pay their bills and put food on the table — but it was delivered courtesy of VP Harris's tie-breaking vote.
2. Vaccine Ambassador
Since the bill passed, Harris has been traveling the country (with Second Gentleman Doug Emhoff by her side) to remind the American people how important and critical the COVID-19 relief plan is for all Americans. This includes touting the success of the vaccines — and encouraging folks to get vaccinated as soon as possible.
This vice president is uniquely positioned to be an ambassador to communities of color, where some people are reportedly hesitant to get the vaccine. As a woman of color herself, Kamala Harris can speak bluntly and honestly to dispel people's fears. In an interview with MSNBC's Joy Reid, Vice President Harris declared: "I promise you and I am telling you this vaccine is safe… And it will save your life and the lives of your family and your community and we have it within our power to actually do that."
3. Voice for Civil Rights
In addition to vaccines, there are many issues that Vice President Harris can speak to, using her platform as VP and her Black and South Asian heritage. There is the current assault on voting rights happening across this country, the likes of which have not been seen since the days of Jim Crow. As a Black woman, as well as a Black vice president, Kamala Harris is impacted both personally and politically by this onslaught, and her voice needs to be in the conversation.
VP Harris did not disappoint, making her voice on this issue loud and clear: "Americans today want to vote for the same reason the Selma teachers marched to that courthouse: to have a say in their lives. To have a say in what happens to them and the people in their community. Because as citizens of this country, we all have a right to be heard and to have our vote count. And our laws should make it easier, not more difficult to exercise that right."
4. Voice Against Asian Hate
With rising incidents of hate and violence against Asian Americans, it is more important than ever to have prominent, visible Asian American leaders speak out. What a perfect moment for Kamala, who is not just the first Black woman vice president, but the first Asian vice president too. Indeed, Vice President Harris spoke out along with other Asian American leaders, saying, "Our Administration has taken actions to address these xenophobic attacks. We must continue to commit ourselves to combating racism and discrimination."
And when President Biden signed an executive order to combat anti-Asian discrimination, the vice president was right there by his side. It is not necessary for the vice president to be physically present whenever the president signs an order, but Harris has consistently made herself visible to signal her support for the administration's policies.
5. Migration Overseer
One of the first things Biden and Harris did when they came into office was to undo the Trump administration's cruel, inhumane policies at the U.S. border. But that is just the first step. There remains the business of processing thousands of migrants, figuring out who's supposed to stay, who should go, and who will take care of the unaccompanied minors who are showing up as refugees.
President Biden has tasked Vice President Harris to be the administration's go-to person on migrants. Harris showed confidence and poise in accepting the assignment, saying, "There is no question that this is a challenging situation… We will enforce the law and we also — because we can chew gum and walk at the same time — must address the root causes that cause people to make the trek, as the President has described, to come here."
6. "Last Voice in the Room"
When he was vice president, Biden expected to be the "last voice in the room" whenever President Obama was making an important decision. The Commander-in-Chief, of course, was the one who ultimately made the decision; but the vice president is the most prominent of his advisers, the one with the most access and the most opportunity to impact his decision-making process.
Now President Biden has pledged that Vice President Harris will be the "last voice in the room," just as he was for Obama. That means her portfolio will not be limited to the issues we've listed here. Rather, she'll be a special counselor to the president on every decision, every issue, and her unique perspective will be a consideration every time the administration does anything.
I look forward to hearing much more from our vice president, particularly around when we are going to get the migrant children at the border safely back with their parents. I'd also like to see movement and progress around our criminal justice system and their reform plan to make our justice system more fair.
What we know about this administration is that together, they are working to bring America back, to get us on footing that can lead us out of this pandemic, back to a sense of normalcy, and they aren't going to rush things to check things off of their list. We have a First Lady who delivers cookies to the people charged with protecting her and her family. We have a Vice President who gives her staff time off for the weekend so she and her husband can simply be "normal" people living in their home, cooking and enjoy one another's company. They are Americans first and leaders second; they want what we all want, a normal life. Their slow and steady approach will get us there, and together, we can all be proud of the place we call home.
This article was originally published on