Guy Mansplains 'Vulva' Vs 'Vagina' To Women And It Goes About As Well As Expected
by Julie Scagell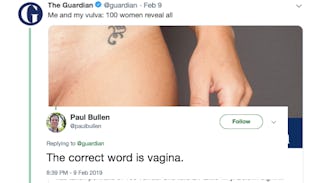 Image via Twitter
He would not relent even when actual gynecologists chimed in
Women are used to dudes mansplaining all types of subjects to them — politics, technology, our own jobs, sexual harassment, feminism, our opinions, things we never asked for their opinion on in the first place — you name it. But one man took things to another level over the weekend when he mansplained a body part women possess that he does not.
It all started when The Guardian tweeted an article titled "Me and my vulva: 100 women reveal all." The article was about a photo series (and film) created by Laura Dodsworth called Womanhood, where she shares "stories of 100 women and gender non-conforming people through portraits of their vulvas" meant to decrease stigmas around women's bodies.
Naturally, this seemed the perfect opportunity for a man named Paul to educate us gals on our body part's correct name — which he believes is "vagina."
Bless his heart. Paul is about to be taken to school by a number of intelligent women who aren't here for his nonsense.
https://twitter.com/jetpack/status/1094686587835756545https://twitter.com/jetpack/status/1094949288961032192
Paul was not having any of it and decided this was a good time to double down, not only on the vagina versus vulva argument but on the term mansplaining itself:
Twitter was quick to point out the obvious:
https://twitter.com/jetpack/status/1094973657279979520
But back to the education of Paul:
https://twitter.com/jetpack/status/1095307967338024960
Even Dictionary.com couldn't hold back:
Paul, being a white man, refused to back down even though he's surrounded by tigers wearing a meat suit. He just kept at it in a series of now-deleted tweets:
You really have to hand it to him, he is committed if nothing else, which didn't go unnoticed:
And just when you thought it couldn't get any better, someone pointed out in addition to Paul holding both a PhD and a masters, he also holds a "Certicate In Editing." He has since corrected this error, which is both hilarious and almost makes me feel a teeny bit sorry for him:
https://twitter.com/jetpack/status/1094730784651530240
If there are any more Pauls reading this, the vulva is "the external female genitalia that surround the opening to the vagina; collectively these consist of the labia majora, the labia minora, clitoris, vestibule of the vagina, bulb of the vestibule, and the glands of Bartholin." The vagina is located in front of the rectum and behind the bladder (i.e. inside the body). This is actual irrefutable scientific fact, no matter how completely convinced Paul is otherwise.
It seems poor Paul may be forever known as the Man Who Tried Unsuccessfully To Explain Female Anatomy To Females. He tried tweeting something completely unrelated (though obviously still being a real arsehole in the process) and his "fans" want to make sure he hasn't forgotten about Vulvagate:
Perhaps this is as good an example as any to remind men if they feel they need to educate an entire population, take a quick second to do some research of your own and make sure (I mean, really sure) you know what you're talking about. Then, when you're really super sure, please kindly remain silent anyway. Good talk.
This article was originally published on