Waiter Accepts Little Girl's Barbie Credit Card And OMG, It's The Sweetest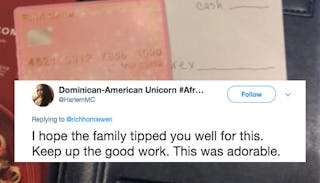 Image via Twitter
Waiter accepts Barbie credit card from 3-year-old.
Today in completely delightful news, recently a three-year-old handed over a fake Barbie credit card to pay for her family's meal — and the waiter handled it like a complete champ. Wendell Davenport, who works at Carrabba's Italian Grill, took to Twitter to share an exchange he had with quite possibly the most adorable child in America.
Caution: this entire story will make you beam like an idiot.
The cuteness overload began when a family was finishing up dinner at Carrabba's, and Davenport arrived to hand over the check. The 3-year-old at the table promptly forked over her bright pink Barbie credit card.
At first, Davenport just laughed. But his tiny customer was insistent. "This little girl had tried to hand me this card three times so eventually I took it," he tells Scary Mommy.
He wrote out a little receipt just for her, complete with a space to leave a tip and sign her name. He even put the receipt in its own check holder. Are you already wildly beaming? There's more. When he returned to the table, he found that the little girl had tipped him three dollars. "When I saw she left a tip I just said awwwww she was so cute," Davenport said. "And I got baby fever a bit."
A huge chunk of the Twitterverse has come together in sheer joy over this tiny tot, her generous pink credit card, and a waiter with A+ customer service skills.
https://twitter.com/jetpack/status/981566545158696962
https://twitter.com/jetpack/status/982267629548126208
Unfortunately, Davenport's pint-sized customer had already left the building when he came back to discover his tip. He told Buzzfeed News, though, that he's pretty confident the "precious girl has a bright future." After all, not only did she both pay for the food and leave gratuity — but she pretty much took charge of the entire meal.
"The little girl was talking ever since her family sat down," he said. "She was trying to order the whole meal so I went ahead and let her."