Photographer Recreates Famous Walking Dead Scenes - With Kids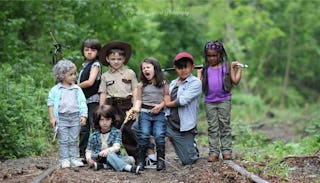 Image via Facebook/ Mother Hubbard Photography
Children's Walking Dead cosplay shoot goes viral
"DISCLAIMER: SOME PHOTOS MAY BE TOO INTENSE FOR SOME, PROCEED WITH CAUTION," writes Mother Hubbard Photography at the top of their now viral portfolio of children recreating scenes from The Walking Dead.
You may be a Walking Dead fan and used to some pretty graphic scenes, but how do you feel about the most iconic scenes from the show being recreated by toddlers? The internet has a lot of opinions.
Yikes. Somehow Lucille is still kinda terrifying in the hands of a toddler.
Daryl herding the walkers away. The motorcycle rocker steals the show here. Sorry little zombies.
24 kids participated! No one can be surprised by this, Walking Dead fans are hardcore. Lining up to have their kids photographed yielding weapons and posed as zombies is probably the photo-shoot dream scenario. Some people want babies in fruit baskets, some people want babies as the undead. Different strokes for different folks.
The Instagram reactions are predominantly positive, but over on Facebook where the photos have been circulating wildly, it's a little different.
"The pivotal Carol/Lizzy flower scene *Disclaimer no children were harmed in the making of this, they were just playing pretend and acting and that is a toy gun lol*," she explains in the caption. "Also Carol is MY daughter and Lizzy is a friend's daughter, who both knew they were playing a roll and acting with TOYS and know all about gun safety. The children on the actual Walking Dead show held weapons at each other and no one freaked out…remember it's PRETEND."
Her explanation didn't stop the internet from voicing its disapproval:
One commenter writes,"This is absolutely horrible, what if a child sees this and finds Daddy's gun and also does a "reenactment". Where is your mind?" Well, one could argue that leaving a loaded gun accessible to a child is just a little worse than having that child act out a scene in a show. "This is absolutely disgusting and it makes me sick to my stomach," says another comment.
There are those who are defending the images, too. One grandma writes, "Well, I love your pictures! I am proud you posted them. You should share them to some of The Walking Dead fb groups and pages. I bet you can get a lot of picture requests." She explains she became a fan of the show when her 14 and 9-year-old grandkids convinced her to take them to Georgia on blind hunt for the Walking Dead production team. "Got to meet some of cast and some zombies. Watched filming right downtown Senoia," writes the world's best grandma.
The anger expressed in the comments on the above photo is mostly because people think it's a spoiler for the season's insane cliffhanger. That's hilarious.
Clearly these images aren't for everyone, but the outrage is a tad silly considering once a year we have no problem with kids dressing like bloodthirsty vampires and roaming the streets. Yes, they may be disturbing, but like anything else on Facebook — there's always the option of scrolling right past.
This article was originally published on