Walmart Is Opening Low-Cost Health Centers Where A Checkup Is $30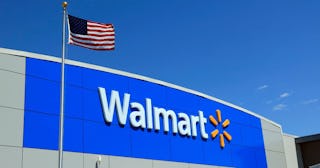 Education Images/Getty
To get a slice of the $3.6 trillion healthcare market, Walmart plans to aggressively push its new health centers
In a handful of the nearly 5,000 Walmart stores that currently exist in the U.S., shoppers can pick up their groceries, a new jacket, electronics — and then get their teeth cleaned, see a doctor about diabetes management, or even talk to a mental health professional. It's part of the massive retailer's push to get a slice of the $3.6 trillion national health care market by offering health centers at its supermarkets.
So far, Walmart has opened just two of these care centers, both in Georgia. These aren't to be confused with health clinics, which have been tucked into the corners of Walmart stores since the 1990s. Those clinics were small, typically staffed with nurse practitioners, and couldn't do much beyond urgent care for small health problems, like a sore throat or pink eye. These new care centers are large, feature separate entrances from the main stores, and they're staffed by doctors, dentists, and psychologists who can offer medical, dental, and eye care, as well as X-rays, hearing checks, and diagnostic lab tests for things like blood glucose and lipids.
But what's really catching shoppers' attention is the prices. These health centers cater to those who don't have health insurance, and at every Walmart health center, there's a large board that clearly displays prices: $30 for a medical checkup. $25 for a teeth cleaning. $1 a minute to talk to a counselor.
As healthcare costs rise and the entire landscape of finding affordable care is murky and confusing, a low-cost health provider that uses transparent flat rates to price its services is attractive to many people. And in the places where Walmart's health centers have already opened, it shows. While the store's executives aren't revealing exact numbers for how many people have visited the two Georgia health centers so far, one did tell Bloomberg the volume of patients has been "substantially higher than our expectations."
Of course, there's plenty of criticism of this model. Walmart has come under fire in the past for skimping on healthcare for its own employees. And while the retail chain is legendary for its ability to cut costs by keeping business expenses as low as possible, one has to wonder how that model will translate to healthcare, where cutting costs could result in subpar care.
Still, in a country where basic healthcare is out of reach for so many, any new option for getting people the care they need might be a step forward.