Walmart Will Limit Sales Of Guns And Ammo After 'Horrific' Shootings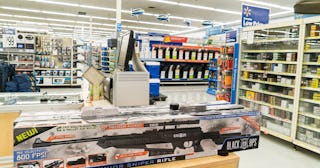 Barbara Alper/Getty
Walmart will stop selling ammo used on military-style weapons
America's largest retailer, Walmart, announced today that it will limit the sales of guns and ammunition following two mass shootings occurring within a week of each other at their stores.
CEO Doug McMillon shared the decision in a memo, stating the company will discontinue the sale of short-barrel rifle ammunition, which can be used on military-style weapons, as well as handgun ammunition after selling out of their current inventory. The retail giant also said they will stop selling handguns in Alaska, the only state where it still sells handguns, "marking our complete exit from handguns."
The memo opens, "A month ago, in El Paso, Texas, a gunman with an assault-style rifle launched a hate-filled attack in our store, shooting 48 people resulting in the loss of 22 innocent lives. Just a few days prior, two of our associates were killed by another associate in our store in Southaven, Mississippi. And hours after the shooting in El Paso, our country experienced another mass shooting in Dayton, Ohio. This weekend brought tragedy to Midland and Odessa, Texas."
Additionally, Walmart is asking its customers to no longer openly carry guns into its 4,700 stores, or any Sam's Club stores, in states that have concealed carry laws.
The move comes just one month after mass shootings at two Walmart stores in El Paso, Texas and Mississippi left 24 people dead. In August alone, 53 people have died in mass shootings in the U.S. and Walmart has decided to respond to the continued tragedies. "In a complex situation lacking a simple solution, we are trying to take constructive steps to reduce the risk that events like these will happen again," McMillon said. "The status quo is unacceptable."
Walmart will continue to sell long barrel deer rifles and shotguns and much of the ammunition for those guns. "We will treat law-abiding customers with respect, and we will have a very non-confrontational approach," McMillon said. "Our remaining assortment will be even more focused on the needs of hunting and sport shooting enthusiasts."
Walmart represents about two percent of the gun market and has been pressured to stop selling guns recently in the wake of these latest mass shootings. The retailer stated they don't believe they are one of the top three gun sellers in the industry, but estimated it has about a 2o percent market share of ammunition sales.
The company stopped selling assault rifles in 2015 and raised its minimum gun purchasing age to 21 last year after the Parkland, Florida, shooting, CNN reported. But this latest step may be one of the most aggressive the company has taken with regard to the sale of guns and ammunition.
McMillon also said that he will be issuing a "call for action" aimed at the White House and congressional leaders that speaks to the necessity of "common sense" gun safety measures such as an assault weapons ban and expanded background checks.
"We encourage our nation's leaders to move forward and strengthen background checks and to remove weapons from those who have been determined to pose an imminent danger," he said. "Congress and the administration should act. Given our decades of experience selling firearms, we are also offering to serve as a resource in the national debate on responsible gun sales."
This article was originally published on