This Lavender-Scented Mattress Topper Will Soothe You To Sleep
by Team Scary Mommy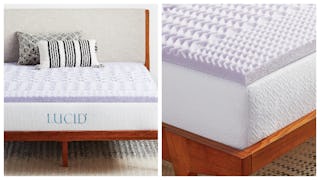 Image via Walmart
If you're looking for the best items to help you sleep like you've had a day at the spa, here you go
When it comes to soothing smells, lavender has to be at the top of the list. Scientifically speaking, the properties in lavender increase slow-wave sleep, which is instrumental for slowing heartbeat and relaxing muscles.
If you rely on the soothing smell of lavender to fall asleep, you're in luck. Walmart has a lavender-scented memory foam mattress topper — and it's on sale.
The Lucid 2″ Lavender-Scented Zoned Memory Foam Mattress Topper offers luxurious comfort and the soothing power of aromatherapy in one amazing mattress topper. It's designed to support the body's pressure points while simultaneously providing support for your head, neck, back, and spine.
The lavender infusion helps calm the mind and soothe the senses, providing an amazingly zen sleep atmosphere for just $34.99-$55.99 (regular price: $50.74-$99.99). It comes in multiple sizes — from Twin and Twin XL to King and California King.
But that's not the only way you can get great sleep for a great price — check out the rest of these items!
These pillows offer the luxury of hotel bedding to your home so that you can get a relaxing, rejuvenating night's sleep every single night. Filled with 100% Hypoallergenic Polyester Gel, these superior pillows provide the softness of down with the perfect level of support for everyone, no matter your sleep style, for just $34.19.
If you've never gone to sleep with a sound machine before, be prepared to never be able to leave home without it once you start. Because this HoMedics sound machine works wonders. Choose from a waterfall, rain forest, ocean waves, and more. This $19.99 Sound Spa is also portable is battery or AC adapter operated, so you have versatility in your use.
A weighted blanket is specially designed to be 8-12% of your body weight. This gives you the feeling of being hugged or held & simulates the therapeutic benefit of Deep Touch Pressure Stimulation to promote relaxation and deeper sleep. Basically, they're awesome and extremely popular for a reason — they work. You can get this one for $69.99.
This sleep mask has a 3D design so it fits over your eyes and nose comfortably, and doesn't let any light in. It's machine washable and only $3.89 — snag one and get ready for a good snooze!
Yep, there's a reason lavender is the go-to for calming all the senses and relaxing you before bed. You also can't go wrong with anything Dr. Teal makes — between the Epsom salts and the lotion, your body will be ready for sleep in no time.
Sure, these are technically meant for kids. And maybe you have a little troubled sleeper at home! But if you buy this noise-canceling headband for yourself, we won't tell. These earphones are just $19.97 and a great alternative for kids who hate earbuds, struggle with bulky over the ear headphones or have sensory issues, Autism or SPD.
Maybe it's not scientifically proven, but cute sleepwear definitely helps out the whole going to bed process! This adorable pajama set is just $14.92 and the perfect choice for spring or summer nights.
OMG. Unlike the U-shaped pregnancy pillows, this baby right here is for anyone — pregnant or not. And it's literally a pillow cocoon for your entire body. If your mattress isn't super comfortable, here's a great solution. Or if you just want to pretend you're hibernating through what's left of the winter, go for it.
Badger Sleep Balm doesn't make you sleepy (and it's definitely not a drug), but rather this natural sleep enhancer uses a sophisticated blend of essential oils to help quiet your thoughts and clear your mind, then you fall asleep naturally. Rosemary is the traditional herb for clear thinking, confidence, and memory. Think of it as a soothing, sleepytime salve.
Whether you have a hard time falling asleep, or maybe you just love getting the most out of your sleep experience, these items are all fool-proof ways to make your nighttime experience the most soothing, relaxing experience possible.
We may earn fees from purchases made via links on this page and affiliated sites. All opinions are our own.
This article was originally published on