Walmart Implements One-Way Traffic In Stores To Stop Spread of Coronavirus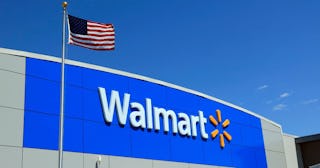 Education Images/Getty
Walmart will place markers in stores directing shoppers through the one-way foot traffic
Some grocery and essential retail stores, like Target, have implemented new measures to limit the number of shoppers in stores in an attempt to slow the spread of coronavirus. Now, national retail giant Walmart is taking things one step further — not only are they limiting the number of customers allowed inside, but they're also equipping stores with one-way traffic markets.
Starting today, Walmart will only allow five customers per 1,000 square feet in its stores (about 20 percent capacity), according to a statement by Executive Vice President and Chief Operating Officer Dacona Smith. And in many stores beginning next week, it will take a page out of IKEA's playbook by placing markers on floors to direct shoppers one-way "so to help more customers avoid coming into close contact with others as they shop," according to Smith. Associates will also be on hand to ensure people know where to go and which direction to walk.
"We care deeply about our associates' health and well-being, and in recent weeks we've taken steps such as expanding our paid leave policies; closing our stores overnight for cleanings and restocking; installing sneeze guards and social distance markers in stores; beginning temperature checks; and starting to make gloves and masks available to associates who want them," Walmart said in a press release. "While many of our customers have been following the advice of the medical community regarding social distancing and safety, we have been concerned to still see some behaviors in our stores that put undue risk on our people."
To manage this most effectively, store associates will mark a queue at a single-entry door and direct arriving customers there, where they will be admitted one-by-one and counted. Once a store reaches its limit, there will be a one-in/one-out policy.
Most of America is now under state-mandated shutdowns to help stop the spread of coronavirus and grocery stores and pharmacies are among the few services open. As people continue to stock up on supplies, some stores are overrun and people are too close together to comply with social distancing. It makes sense to limit the number of people allowed in stores and the one-way traffic markers are even better.
One-way traffic in grocery aisles is a rare occurrence but it has been implemented in the past. Elizabeth Peralta, executive director of the National Supermarket Association, told NBC News that her group has been asking its members to institute one-way shopper traffic since early March to help manage social distancing parameters. "I don't think it's as far fetched as it seems," she said. "It's just if you've never seen it before."