Why I Don't Want My Kids' Teachers To Be 'Colorblind'
by Rachel Garlinghouse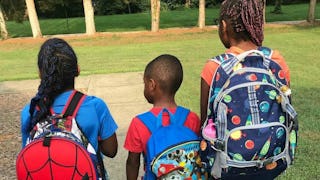 Rachel Garlinghouse
It happens to us once every few weeks. And it takes everything I have not to roll my eyes.
I'll be out and about with my family, shopping for groceries, playing at the park, or running into the bank, and a stranger will approach us. The scenario is always the same.
Stranger locks eyes with me and walks purposefully toward our loud, busy crew of six. Then Stranger asks a predictable, opening question such as:
"Are these your kids?"
"How long have you been a foster parent?"
"Isn't adoption really expensive?"
"Are your kids real siblings?"
Yes, the stranger rarely says "hello" first, and no, the stranger never introduces himself or herself. Yes, the stranger immediately launches into an interrogation. And yes, it's most definitely rude.
I have rehearsed responses to such intrusive questions. After all, we've been a family-by-transracial-adoption for a decade. But the follow up comment never ceases to floor me.
The stranger smiles and proudly boasts, "I'm colorblind."
Yes, you read that right.
But didn't the stranger approach my multiracial family, comprised of two white parents and four black children, because of our multiracial status?
Yes.
Ironic, isn't it?
From the day we became a family, when our first daughter was placed in our arms, we were committed to acknowledging and celebrating race. Pretending to not see their melanin not only doesn't work, but it does a huge disservice to our children, discrediting their blackness as something that is easier to ignore than to embrace.
Let me be very clear: colorblindness, in terms of seeing a person's race, doesn't exist. Not seeing the curl of my children's hair, the richness of their melanin, the depth of their brown eyes, simply isn't possible. And frankly, it's downright offensive that someone would place their white privilege, their commitment to "not seeing color," above who my child is.
It doesn't seem to matter the person's age, gender, profession, or level of education. The colorblind virus is contagious and spreading like proverbial wildfire. And as a mom, I have to relentlessly work to put out the flames.
Each year, as my children begin a new grade, I am quick to introduce my family to my kids' teachers, principals, bus drivers, aides, and therapists, and make it clear that adoption and race are open and ongoing conversations in our home. I set the expectation that we will not, as a parent-educational professional team, ignore who my children are.
Blackness isn't something to merely be tolerated or temporarily celebrated in February for Black History Month. My kids are Black every single day of the year, in every situation, unapologetically.
I'm not alone in desiring that my children's teachers see their color. In America, 80% of teachers are white, mostly white women, yet the majority of children who attend public school are children of color. Though my children have had principals, teachers, aides, and bus drivers of color, it is certainly not the norm.
Thankfully, my children love school. They think their teachers hung the moon. My kids revel in all-things-school, even riding the bus. And because of this, it's critical that those who teach my children appreciate and understand race. My children cannot separate their blackness and their identity as adoptees (people who were adopted) from the rest of themselves.
In fact, my girls are proud of their cornrowed braids. My son loves when he has a fresh fade. My children enjoy sharing how the shade of their skin is the perfect blend of that of their birth parents'.
I'll be damned if I let anyone use the "I love black people, brown people, even purple polka dot people" nonsense to squander my kids' joy and attempt to eradicate the parts of them that cause societal discomfort.
Colorblindness is detrimental to kids of color. Period.
So during these first few weeks of school, I begin an important and ongoing conversation with those who teach my children, inviting them in to the sacred.
Just last week, we gathered in a conference room for an IEP review meeting. And the special education teacher, whom I was meeting for the first time, smiled and showed me an example of a visual task chart she would replicate for my child. Looking down at a graphic of a hand holding a pencil, indicating it was time to practice handwriting, the teacher said, "Of course, I'll be printing off a hand with brown skin."
This gesture wasn't lost to me. This detail mattered. And I have no doubt that when a teacher takes the time to see color, that teacher can more effectively teach the beautiful, melanin-rich children entrusted in his or her care.
And mommies like me, who raise children of color, can inch toward hope.
This article was originally published on