Warped Tour Announces Final Tour After 24 Years, And We Feel So Old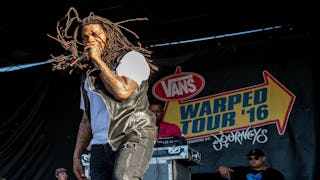 Suzi Pratt/ gettyimages
Do you remember your first time at Warped Tour?
I sure do. My buddy Justin and I offered our friend Elise a ticket to the show in exchange for a ride. She showed up at my house with this skinny guy sporting bleached tips, JNCO jeans, and a tank top. I'm sure he was about 18 years old, but I was 15, and he had a car that didn't leak oil, so I assumed he was at least 30-something. He drove us from Provo to the Salt Lake City fair grounds at roughly 200 miles an hour. This was a one-hour trip, but we made it in half that time.
It was July in the desert, so all the mosh pits were at least a bazillion degrees. During the Deftones set, I got punched in the face, and that dude with the non-leaking car left the show with his pants and tank top all ripped like a bear had eaten him.
Come next summer, that all will have happened 20 YEARS AGO!
We were so cool in 1998, weren't we? Now we are but a few years away from when a doctor recommends a colonoscopy. How the hell did this happen?
But the thing about Warped Tour is that, for many of us, it was our scene. I attended that show every year from 1998 until 2004, the year I got married. I saw artists like Blink-182, Eminem, The Black Eyed Peas, Katy Perry, before they hit it big. And I saw bands like Pennywise, Social Distortion, NOFX, Bad Religion, Dropkick Murphys, The Bouncing Souls, Rancid, Flogging Molly, Anti-Flag, and The Offspring who, more or less, provided the soundtrack to my adolescence.
I know for a fact that I'm not alone. There is a reason Warped Tour is the longest-running touring music festival in North America.
In fact, if you are reading this, I know that you are like me and cannot help but think about Warped Tour and not fondly remember sweaty mosh pits and third-degree sunburns.
All good things come to an end, my friends.
After 24 years on the road, Kevin Lyman, who founded the fest in 1995, is calling it a day. He made the announcement on the Warped Tour page. "I have been a very lucky person to have traveled across the country and sometimes around the world as one of the founders and producers of the Vans Warped Tour. Today, with many mixed feelings, I am here to announce that next year will be the final, full cross-country run of the Vans Warped Tour."
He cited a few factors as to why he's pulling the plug during an interview with Billboard: "[A]n evolving summer festival industry, a shrinking pool of bands, and declining ticket sales amongst its teenage demographic — led him to declare the tour's 24th year its last."
Long story short, Warped Tour simply isn't as relevant as it used to be. I'm as bummed about this as you are. My children will never know what it feels like to look at that massive list of stages and set times, calculate the route to all their favorite bands, and then rush from one stage to another to catch a 30-minute set. They will never know what it feels like to go crowd surfing and have some dickhead steal their shoe, driving them to do something desperate, something they never thought they were capable: steal a shoe from someone surfing the crowd so they won't be shoeless. They will never know how awesome it feels to discover some new band on a small stage, only to watch them grow into something really big.
The lineup for 2018 hasn't been announced yet, but a number of names are being thrown around. Everyone from My Chemical Romance (anything's possible) to Blink-182 to Katy Perry to the original Misfits. For those who are really sentimental, there are final tour packages that include a pair of collectible Warped Tour Vans (if you plan to crowd surf one last time, I suggest not wearing them to the show. See example above).
But for you parents out there, get this: Parents get into Warped Tour for free if they are accompanying their child. That's right, one child and ticket = one parent. My kids are pretty young still, so I don't know if I could get them interested in all that screaming and dehydration, but if you have a tween or teen who doesn't find you completely embarrassing, now is your chance to relive your youth. Chances are, this upcoming final tour will be a good mix of bands from back in the day, along with young up-and-coming bands that your children will dig.
With that said, I think now is a time to share a picture. It's best to mourn a loss among a community. Below is a picture of late-teens Clint Edwards, circa 1999, heading home from a Warped Tour. Wasn't my Kurt Cobain hair glorious?
Share your pictures in the comments.
Thanks Warped Tour, it's been a wild ride.
This article was originally published on