11-Year-Old 'Washington Post' Fan Got To Visit Their Offices And It's The Cutest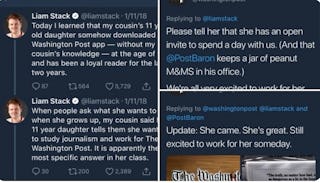 Image via Twitter/Julia Reinstein
Katie Reddy been an avid WaPo reader since the age of nine
Sometimes we all need a story that's free of snark and unsettling news — this is that story. Earlier this year, a reporter discovered his cousin's young daughter was a huge fan of the Washington Post. An avid subscriber, to be precise.
He shared that little tidbit on Twitter, inspiring a chain of events that will no doubt brighten your entire day.
Liam Stack, a journalist for the New York Times, took to Twitter back in January to share how in awe he was of his cousin's young daughter and her voracious appetite for news.
"Today I learned that my cousin's 11-year-old daughter somehow downloaded The Washington Post app — without my cousin's knowledge — at the age of 9 and has been a loyal reader for the last two years."
If that's not just the coolest thing, I don't know what is.
OK, now that's the coolest thing ever. Maybe she inspired her entire middle school class to start regularly diving into international headlines?
Of course The Washington Post thought it was pretty cool, too.
"We're all very excited to work for her someday." OMG. My heart.
The girl, Katie Reddy, was indeed using the WaPo app on the sly, according to her mom. "My husband and I were talking at dinner, talking politics, and Katie kind of chimed in with a smart, informed remark, and we stopped eating and looked at her and asked how did you know that and she said 'Oh, I read WaPo,'" Megan Reddy said.
"Oh, I read WaPo." Just like that. No big deal. God, I love this girl.
Reddy saw her dreams come true this week, when she stopped by the WaPo offices to scope out her future digs.
See? We all need some snark-free, purely feel-good stories once in awhile.
Who can look at that photo and not smile? This is a girl who knows what she wants at the age of 11. I'm in my thirties and my ambitions change, like, weekly.
From start to finish, Reddy's story has captivated the internet.
I think I can speak for all of us when I say I can't wait to read Katie Reddy's work someday.
This article was originally published on