Watch This Dad Realize He's Getting A Baby Instead Of An Apple Watch
by Valerie Williams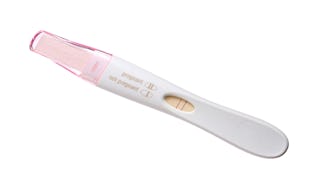 Image via Shutterstock
A father-to-be got the surprise of a lifetime when he opened a birthday present from his wife. What at first appeared to be a certain coveted Apple item was actually a positive pregnancy test, letting him know he was going to be a dad. He thought he was getting a crazy-fun gadget but instead, he's getting new offspring. Cue the aww.
Here it is, a guy thinking he's about to get an Apple Watch only to find out that he will now never be able to afford one because, kids:
Even though my first instinct was to giggle at his tears imagining him going from super-thrilled to get an Apple watch to the huge realization that his life is about to change forever, this is undeniably sweet. His reaction is so genuine and heart-felt, it's hard to hate on it. With so many elaborate and gimmicky pregnancy announcement videos going "viral" these days, I think a lot of us have become a bit hardened and are quick to get annoyed by them, but this one is an exception for a few reasons.
There was no real theater. No spectators. No fanfare. No long lead-up. It felt very real, like something even a lazy cynic like me might consider putting together. Actually, I miscarried last year and when I told my husband we were pregnant, I handed him the positive test (with the cap on, no one got pee on their hands, thanks very much) and a card telling him the news while I took a short video on my phone. It was simple and meaningful and not at all meant to go "viral" and I get that same feeling watching this sweet video. It's just these two people, alone in their unremarkable bedroom, sharing a moment they won't ever forget. And now I'm getting misty all over again, because I am a sap. I'm sure this couple never expected their adorable interaction to trend on Facebook, and that's what sets it apart from the ones that appear to have been put together by a professional production company. It's very real and heart-felt.
In the age of the internet, so many couples are trying to show each other up with better engagement announcements, surprise wedding dance videos, pregnancy announcements and even carefully crafted short films telling the world if the baby is a boy or a girl. In all this effort to be "viral," we might forget that these moments are real and not just there to grab people's attention and ratchet up views on YouTube. It's life. And even though the internet may have desensitized some of us to how special these events truly are, videos like this are quick to remind us that it's actually pretty cool how we can capture a few life-changing minutes and share them with anyone. It lets us into each other's lives in a very intimate way and we should never lose sight of how special that is.
We wish this couple the best of luck with their pregnancy and hopefully, Apple will catch wind of this video and send him an Apple Watch for real. He'll need something to time his wife's contractions (and all those midnight feedings) in nine months!
This article was originally published on