Watching Adults Reunite With Their Favorite Teachers Will Give You All The Feels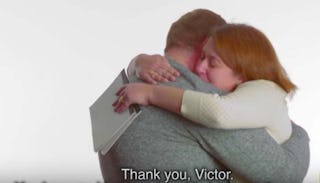 These students thought they were just being interviewed about their favorite teachers. Little did they know…
We can all think of at least one teacher who had a big impact on our lives, can't we? Mine was a fifth grade drama teacher who convinced me I could sing. Spoiler alert: I couldn't. But he helped me conquer my fear of speaking and performing in front of people and that's something that's served me into adulthood. Mr. Parsons, thanks for convincing a shy, chubby fifth grader who talked too fast that she could command a stage.
How many times have you thought of "that" teacher and how special they were to you? And if you're a teacher, have you any idea that you've made a huge difference in some of your students' lives? It's not often we're able to revisit those teachers and let them know what they've done. Heck, I don't even know if some of my favorites are still alive. That's why this clip is so touching: it reminds us those teachers from our past are real. And they would probably love to hear our thanks.
Teachers, you touch the lives of so many. Next time you're having a hard day, remember that there's certainly someone out there who has fond memories of the way you connected with them. Sometimes it takes years for it to fully sink in how important a teacher's presence was in your life.