Why Youth Sports Are Harder For Parents Than Kids
by Rita Templeton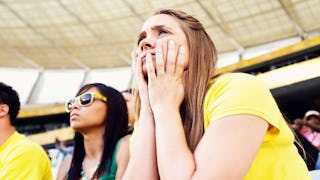 RapidEye/Getty Images
On any given Saturday during basketball season, you can find me perched nervously on the edge of some bleachers, anxious eyes glued to the court. My son isn't playing for a chance at the NBA or in front of a college scout or even to win an important state tournament – he's eight, and he's playing one game a week on a team at the YMCA. But to watch me watching him, you might think there was a lot riding on his performance.
No matter how much I try to keep it together, I wince and gasp and explode with a jubilant, echoing "WOOHOO!" when he makes a shot. I'm not exaggerating one bit when I tell you that my heart pounds the entire time – so much that the fitness tracker I wear on my wrist literally counts it as a workout. I tell myself to be cool, that he's just playing a fun, no-stakes game, that I should really CTFD. But to me – and to every parent who has ever wanted their child to succeed – the stakes are high. Because it isn't about the win itself. It's about my kid's feelings, which are more important to me than any award on earth.
I know how my son reacts when his team loses. He blames himself, taking the loss personally, disappointed that he didn't play just a little better – even when he played his best. Of course, I always remind him that he can't win every game, and point out the great moments his team had despite their loss, and how much fun he has when he's playing. And his disappointment never lasts long, but no matter how short-lived it is, the initial crestfallen look in his big, somber brown eyes is always like a punch in the gut.
Remember gymnast Aly Raisman's parents nervously (and adorably) watching her compete at the Olympics? The photos and video of their reactions went viral; in their cringes, leans, and seat-gripping, we all saw a little bit of ourselves. Because as any parent who's ever watched their kid compete or perform knows, it's absolutely nerve-wracking. Olympics or not.
As parents, our feelings acutely mirror what our kids feel. Their hopes are our hopes. Their heartbreak is our heartbreak. And when we send them out on a court or field or stage, we are nervous for them. Every instinct we have tells us to protect them from all the bad things, yet here we are: sitting helplessly in the audience, stripped of all ability to shield them from completely going down in flames, offering support but little else.
They're either going to fly or fall, and we – the people who are the most emotionally invested in the outcome – are temporarily reduced to the role of spectator, able to do nothing except stand back and watch. Nobody else knows more about how hard they've worked, how much effort they've put into whatever it is they're doing. Nobody else wants more for them to emerge victorious and smiling. Nobody else has to console them when they don't.
My kid just plays 3rd grade basketball, which is a relatively low-risk sport, and I still watch through my fingers for a good percentage of the game. I can't imagine being a parent whose child is competing at something that involves a very real chance of injury. Adding that on top of the emotional pressure would have me writhing uncontrollably in my seat (or jumping out of it altogether).
Like most kids, mine is an ambitious dreamer, and he wants to play high school and college basketball and then go on to the NBA. I know that, realistically, he'll more likely end up with an office job, maybe coaching his own kid's elementary-aged basketball team, and I'll never have to sit (squirm?) courtside at a professional basketball game. But even if I do, it won't be the trophy or the title I'm worried about, no matter how prestigious. It's my child, always my child, and the heartfelt compulsion of a parent to want only good things on his behalf.
This article was originally published on