Water Line Break Causes Flooding On Cruise Ship In The Middle Of The Ocean
by Julie Scagell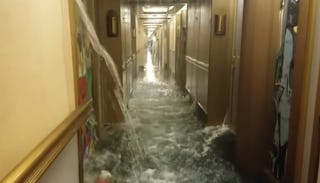 Image via YouTube
The water line break affected approximately 100 guests
There are certain things which, for most of us, are the stuff of nightmares — heights, being trapped in a room full of hairy spiders, mascots (just me?), or being attacked by a bear whilst sleeping in a tent. But 100 percent of people would absolutely lose their shit if they awoke on a cruise ship to find water streaming into their rooms. Unfortunately for some aboard a Carnival cruise, that nightmare was their realty.
A water line break aboard a Carnival Dream passenger cruise line sent water flooding into 50 staterooms as it sailed through the Caribbean. Video recorded Thursday, May 3, by one of its passengers shows water streaming from the ship's walls and ceilings as crew members tried desperately to collect the water in buckets.
Apparently, the ship's fire sprinkler system water line broke, sending gallons of water into the staterooms around 6pm that night, the company said in a statement. About 100 guests were impacted by the flooding, and according to Carnival, were only affected for six hours, at which time the "crew had replaced hall and stateroom carpeting, dried out other sections of carpeting that were damp but did not need to be replaced, and restored the 50 staterooms so that all guests could sleep in their beds that evening."
Kudos to them for handling the incident so quickly but if I were one of those guests, hell to the no get me off that ship immediately. I watched Titanic exactly once and cried for weeks thinking about what those poor souls went through. I can't even listen to a Celine Dion song because she wrote the soundtrack and her voice reminds me of the film. Damn you, James Cameron.
The cruise industry has made headlines for years and not in a good way. From passengers missing, falling overboard, being attacked by pirates, and hundreds of passengers getting the shits because of random viruses. Guests should be eating their weight in cocktail shrimp from a six foot tall whale-shaped ice sculpture, not worrying about water flooding into their room while they're getting ready for kimono night. No thank you, captain, I'll be over here on actual land.
"We offered to fly the impacted guests home at our expense if they wanted to disembark early and only two of the nearly 100 guests that received our offer chose to do so," Carnival said in the statement, per Fox 8. "Most of the guests on board were not even aware of the incident until the last 24 hours as word circulated and our passengers heard from friends and family who saw media reports."
Carnival did provide full refunds to all those guests impacted by the flooding, as well as a discount on a future cruise and luckily, no one was injured. The ship returned to its homeport in New Orleans on Sunday morning, as scheduled.