by Maria Guido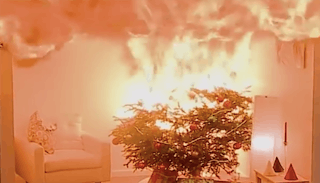 Here are some tips for keeping your Christmas tree safely
Fatherly ran a video this week that will probably freak everyone out and have them running to make sure there is water in their tree. It may be a little over-the-top, but it raises an important point:
Take safety precautions with your Christmas tree.
First of all, Christmas tree fires are infrequent — so don't add anymore anxiety to your already full holiday load. But when they do happen, they are pretty catastrophic, so it's never a bad idea to practice caution. "On average, one of every 34 reported home fires that began with a Christmas tree resulted in a death, compared to an average of one death per 142 total reported home fires," the National Fire Protection Association reports.
And a watered tree definitely burns slower than one that is not watered, as evidenced by the original video released by the NFPA:
A live Christmas tree burn conducted by the U.S. Consumer Product Safety Commission (CPSC) shows just how quickly a dried out Christmas tree fire burns, with flashover occurring in less than one minute, as compared to a well-watered tree, which burns at a much slower rate," the site explains.
Here are some ways to make sure your tree is safe, from The National Fire Protection Association:
Choose a tree with fresh, green needles that do not fall off when touched.
Before placing the tree in the stand, cut 2″ from the base of the trunk.
Make sure the tree is at least three feet away from any heat source, like fireplaces, radiators, candles, heat vents or lights.
Make sure the tree is not blocking an exit.
Add water to the tree stand. Be sure to add water daily.
Use lights that have the label of an independent testing laboratory. Some lights are only for indoor or outdoor use.
Replace any string of lights with worn or broken cords or loose bulb connections. Read manufacturer's instructions for number of light strands to connect.
Never use lit candles to decorate the tree.
Always turn off Christmas tree lights before leaving home or going to bed.
And get rid of your tree after Christmas. Your community probably has a local recycling program.
Happy Holidays!