13 Walmart Products For The Person Who Needs To De-Stress ASAP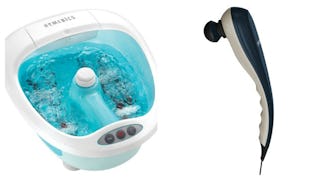 WALMART.COM
This time of year has us pulled every direction. We get it. And since you probably don't want to miss out on a thing, we've got you covered. Here's a list of products to help you stay cool, calm and collected during the holiday hustle and bustle.
A weighted blanket is worth the investment. They are so comforting and really can help with managing the stress that prevents us from getting good sleep. This one is only $47.99 beginning 10PM ET, 11/21!
After a long day you, will melt into this heated lumbar massaging cushion. Just be prepared to stay there for a while — you will want to live in this thing.
Warm, white lights can help you de-stress and feel calm all year around. We love these mini gold strands which are perfect for draping over a mirror or mantle.
Put your favorite, relaxing oils in this chic diffuser while making dinner or enjoying a movie marathon to take the edge off. At the very least, it will make your home smell great.
This luxurious spa set has every thing you need for a relaxing night in to recharge in between all the madness.
This Burt's Bees set comes with a few masks, a relaxing candle, and lip balm — everything you need to keep your face looking less tired than it really is.
Boost your mood, energy, and immunity from the inside out with these Goddess Unleashed Vitamins. Don't forget to drop some off to a fellow mom — she will thank you.
Take a break from the chaos, and give yourself a quick massage whenever you have a moment with this amazing handheld massager. You can also bribe your kiddos to run it over your back and shoulders in exchange for an extra cookie or candy.
Your tootsies are going to need extra love with all that fancy shoe-wearing and walking around the mall to shop. You may not have time to get a pedi, but you can soak in this amazing foot spa every night while wearing you bathrobe and sipping on your favorite beverage.
Using a foam roller is a great way to unwind and loosen tense muscles after a busy day of shopping, baking, decorating, or gift wrapping.
Sure, caffeine is a must this time of year, but don't forget to stock up on some cocktail mixers as well. This yummy pomegranate mixer can be mixed with booze or poured over ice for a cocktail.
Aches and pains are going to sneak up on you and having a heating pad on hand is a life saver. Not to mention it feels so good on your freezing feet.
A heated foot massager to gently knead way all your aches and pains? Yes, please! We only wish we could keep this on our feet all day.
This time of year doesn't have to make you feel as if you want to hide under the covers and avoid the madness. Just a few steps to keep you calm will go a long way, and your family will be sure to notice the calmer you a foot spa or a little bit of aroma therapy will bring.
We are a participant in the Walmart.com Affiliate Program and may earn fees by linking to Walmart.com and affiliated sites.
This article was originally published on