We Asked For The Dishes That Remind You Of Grandma And… Excuse Us We're Crying A Bit.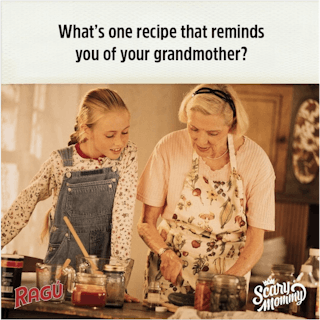 On a random weekday night, when the whole family is exhausted from another busy day of work and play and dinner is due on the table, a Mom might be forgiven for thinking of meal prep as simply a chore. As you well know, it takes an incredible amount of work and perseverance to keep a family going, and much of that work is unromantic and little-celebrated. We pick up toys, we scrub floors, and we generally serve as the last line of defense against every type of family problem, argument, and complaint.
There's more to parenting, obviously: on a good day, we're working to nourish our relationships with those we love the most and to maintain a happy and healthy household. That's why even the most repetitive family tasks can act as a little window into the invaluable connections that hold our families together. And better still, most of the work of parenting is handed down from generation to generation, which means that an afternoon of parental "chores" isn't just a tribute to our kids. It's a way to connect our experiences in our childhood homes with the lives we're building together in the present day. Hopefully we're instilling values and inaugurating traditions that will find their way into happy homes down the road as well.
To celebrate those connections and to gather a little bit of family joy, we asked our readers to share the recipes that remind you of your grandmother, and your responses were overwhelming. Not only were there many of them, but each and every one was a peek into a loving family legacy. Of all the work we do to keep our families on track, cooking is, in many ways, the most personal and sentimental. The fact that so many of us hold our memories of grandma's cooking so close is a testament to the value that their cooking – and ours! – has for the folks that we love.
Before they warmed our hearts or taught us about love, though, all the recipes you shared made us hungry! They span the spectrum- breakfasts, lunches, and dinners. Snacks, entrees, and desserts. Popular classics that many of us enjoy in our homes and peculiar specialties that, quite frankly, we had to look up.
In many ways, the most unique entries were the most revealing ones. You told tales of Mennonite schaubel zup and guayabate, cathead biscuits, paprikash, Christmas stollen and the Strawberry Brick. The recipes you shared painted a picture of proud family heritage, passed down through dishes that have come to be treasured across generations. Foodways are one of the most important techniques that families use to preserve their unique cultures, and here, side by side, we can see the way that, no matter the recipe, a grandmother's affection is a universal inheritance.
And my goodness was there ever some pie. Apple pie, chocolate pie, and pecan pie. Desserts of all stripes, really: red velvet cake, persimmon pudding, apple dumplings and peanut butter fudge. There's something in a dessert that so perfectly reflects the affection of a grandparent: rich and filling but still decadent and special.
And of course so many of your recipes weren't just about the dishes themselves, but about the memories of Grandma that you hold so dear. The whole family gathered to cook Thanksgiving dinner together, or the recipes that she knew so well she kept making after she lost her sight. One reader remembered her grandmother's cream of mushroom soup, made with mushrooms that the two of them had foraged together. Another reader remembered winter weekends spent with Grandma, baking and icing Christmas cookies.
It's a testament to the power of lovingly prepared food that these aren't just happy memories- they're recipes that you've incorporated into your home life today. In that way, the affection that Grandma shared with her family endures even today and shines on the people we hold dear. You owe it to yourself to check out some of these beautiful remembrances and maybe leave one yourself. They're a reminder of how important the members of a family are to each other, and to the affection behind all the work we do to take care of each other.
RAGÚ® sauce helps busy families enjoy more time together thanks to the delicious taste of RAGÚ® Old World Style® Traditional Sauce. When we're making the dishes that keep our memories of far-flung family members close, there's no more fitting starting place than RAGÚ® Old World Style® Traditional Sauce, inspired by their founders' recipe. For quick and delicious recipes, visit Ragu.com.