Save Nana & Papa's Life — Halt Those Holiday Gathering Plans ASAFP
by Elizabeth Broadbent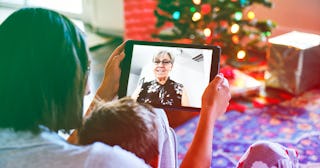 Scary Mommy and RichLegg/Getty
Your dad might flip out. Your mom might cry. Your cousins and aunts may talk behind your back. But, oh well. You should heed the warmings of the CDC, and every major medical organization, and NOT see them for Christmas.
The holiday is quickly upon us, and normally it would be rude to cancel now, but not this year. This year, it's the right thing to do.
It's going to suck, but Scary Mommy has your back. Here are some tips on how to negotiate it.
The Christmas Conversation Is Not About You
First and foremost: this Christmas conversation is not about you. You are not afraid of catching COVID-19 (though yes, you actually are afraid of catching coronavirus from these people who are insisting on having a holly jolly COVID-fest). Instead, you are worried you'll pass Gramma the virus with that side of ham. The Christmas Conversation is all about them, and not about you. Gramma is in a high-risk category. Gramma has pre-existing conditions. We could never live with ourselves oh my God and perish the thought!
Don't you know that (insert name of partner or child) could have been exposed (insert name of school or work here)? There's just so much of a higher chance that we could make you sick, elderly relative.
'Tis the season to pass the buck.
They will retaliate: but you know Steve is coming and Steve is exposed to COVID every goddamn-diddly-day!
Answer: I might have to have a Christmas Conversation with Steve. That scares me for your health, elderly relative.
Remind Them About Traveling
Do remind them about the travel advisories. But they don't care about those, because of course you are an exception. Baby Boomers view themselves as walking, talking, complaining exceptions. Your family doesn't have to worry about any travel advisories, because of course no one in your family has COVID-19, because it is impossible, by virtue of being your family member, that they could be infected with COVID-19.
However, that travel advisory sure as hell applies to other people, and you can use them in the Christmas Conversation.
Remind your elderly relatives that you will have to travel, using gas pump handles and public restrooms with the unwashed, COVID-19 infected masses. Of course, it will likely be safe when you get there (making concessions is important). But getting there is so dangerous with the massive spike right now that it's not prudent to travel across the country/state.
Use The Children For the Christmas Conversation — They Will
Gramma and Grandpa will argue that Christmas is for children, and they have to see the children at Christmas; you can't keep them from the children at Christmas; they are old and they will die soon (or maybe that's just my mom's tactic, anyway).
You can use those same children as a handy reparteé. Children are often asymptomatic little buggers. Arm yourself with the statistics: about one-third of infected children show no symptoms of COVID-19. If junior has been in school face-to-face, he likely went until December 18th, meaning that the full quarantine time hasn't yet passed by the 25th. So he could, in actuality, be asymptomatic, and you really don't want to expose elderly relatives to that. People could end up dead.
Offer Alternatives
You can't just cancel Christmas. What you may be proposing probably sounds to family like you're calling and saying, "Hi, we won't be having Christmas this year. Peace out." You don't want to do that.
Instead, pitch the Christmas Conversation differently. Start with, "I know that because of the pandemic, Christmas is going to look different this year."
Will your elderly relative be utterly unswayed by any of the arguments offered above? Mine would. Don't offer them. Instead, state it as a fact: "Since we won't be able to be together at the holidays this year, I'd like to talk about what we could do."
Luckily, Zoom and Facebook Messenger are here to help (while Zoom may be crashing because of volume all day, Facebook Messenger's video setting is another viable app you can use to get everyone together). Scary Mommy has come up with some ideas you can drop in the Christmas Conversation to get everyone together:
Have a virtual Christmas morning. Dress the kids in matching pajamas, let relatives watch them open their presents — make sure they open Gramma and Grandad's! And make sure they know Gramma and Grandad are "there," so they can include them in the conversation. Make sure you talk to them as if they were in the room as well. Everyone should wear PJs and drink from their favorite Christmas mugs.
Have a virtual Christmas dinner. Everyone can argue about the same political topics as usual! Plus, you won't have to eat that disgusting oyster casserole someone always insists on making. Downside: you don't get the really good pie or the homemade cranberry sauce. But make sure you say how much you miss it, and watch the cook puff up with pride.
Synch a watch of everyone's favorite Christmas movie
Play board games! Chess and checkers are definitely possible over Zoom (my kids do it with the their friends all the time).
Plan for a post-vaccine Christmas. Make plans for a wild, over-the-top, Santa Claus is comin' in July Christmas blow-out to end all Christmas blow-outs. Plan for Santa hats on lawn flamingos, tropical drinks with Santa hats, red and green bathing suits, and a poolside Christmas tree. Give your relatives something to look forward to and actually start planning it. Don't make this a pie-in-the-sky idea. Really make it happen.
However you decide to handle the Christmas Conversation, someone might be very, very angry. Be sure to stand strong in the face of that anger. Refuse to take the bait. Do not raise your voice. Do not name-call or make accusations. Use the following phrases:
I'm sorry you feel that way.
I wish things were different.
I wish we could make another choice, but we feel this is the right one for us.
Remember, people can argue with facts. They cannot argue with your feelings. So if you feel unsafe, they can't contradict you. But if you say you are unsafe, they can say that you're wrong.
And whatever happens, don't let this ruin your Christmas. You can't make everyone happy. You can't make everyone be safe, and you can only control your own actions. Remember that. Stay merry. Stay bright. Don't let one person ruin your holiday. It'll all be forgotten next year.
This article was originally published on