We Pulled Off Our 1980s Summer — Now I Want It Back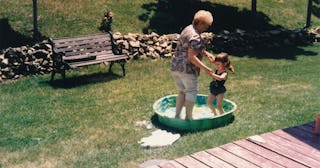 Jena Ardel/Getty
"What are your girls doing this summer?" It was a seemingly innocent question.
My oldest daughter was in third grade when I first tentatively confessed that I had no summer plans for my children at all. Hovering awkwardly around the ladybug-shaped party snacks with a cluster of women who intimidated me, I learned that Brenda's boys were doing basketball and golf camps, the Room Mom whose name I forgot signed her kids up for horse camp, soccer camp, and Girl Scout sleepaway, and Jennifer's kids had daily swim team and an afternoon rotation of piano lessons, drama club, and art class.
Due to a nebulous blend of laziness, disorganization, and frugality, I'd failed to join January's frenzy of booking the best summer day camps and lessons, and when spring hit, I figured we would just "go with it." I worked part time and could haul my children along whenever I taught preschool music classes. That summer, there would be no toting of Sharpie-labeled sunscreen bottles, no purchasing of oversized T-shirts bearing camp logos, no narrowly missed lessons.
Camp Mommy was such a hit that we proceeded to enjoy 1980s summers for the next five years; after the soul-sucking pace of every May, we needed it. We craved the respite of unstructured days, community pools, popsicles, and driveway games with neighborhood children. My initial embarrassment turned into unabashed pride; every year, friends asked with a tinge of jealousy if we were "doing our 1980s summer again."
When my oldest began 8th grade last fall, I knew our free-flowing summers were waning with high school's approach. But then came March 13th, the last day of in-person classes for the year. As April bled into May and the merciful conclusion of remote school loomed, I worried my children would be far less enamored with our under-scheduled trademark summer jam, even though this time, we didn't have much of a choice.
Our feral vacation months were supposed to be a calm between the storms rather than being bookended by more of the same—would a semi-quarantined backyard-based summer have any appeal at all for my children after months at home?
We hastily bought a frame pool as a stand-in for our favorite community pool; we masked up and hit the craft store, filling our cart with canvases, acrylic paint, and brushes. We ordered a pickle ball set and bean bags. Without jaunts into public crowds, this 1980s summer was even more bare bones than usual.
I needn't have worried about resistance from the kids. Aside from missing more regular interaction with friends, they were content to stay put. Akin to the "introverts have been training their whole lives for this moment" joke, it seemed I had inadvertently spent my entire parenting career molding my kids into homebodies.
My girls have always prized unstructured play, but I too prefer minimal commitments. I am the person who cheers when plans get cancelled, even when they are plans with people I genuinely love, at locations I genuinely enjoy. I am the real-life epitome of that Onion article about the man who spends the entire day dreading an enjoyable activity he willingly signed up for.
My children appeared to have followed suit, literally penciling in "sit on our butts time" on the family calendar. We've always rejoiced in snow days, afternoons without homework, weekends without plans, and Friday night pizza and movies, sometimes abstaining from other enjoyable activities to preserve our beloved rituals and rest.
As we hit the coasting ages, "chill time" quickly became everyone's drug of choice—the antidote to practices, activities, and academics. Gone were the days of little kids hopefully inquiring whether we were "going somewhere fun," only to be dismayed when I optimistically suggested "Costco and Kohl's?" as a solution. There are no more pleas to go to the zoo or the museum; nobody wants to check out some previously unexplored gem of a picnic spot.
Aside from the anxiety of a pandemic and a lack of choice in the matter, the structure of our summer closely aligned with our typical preferences. I worried that the novelty would wear off, but in many ways, we thrived during our throwback summer.
I cherished the slow rise and fall of our days, the absence of sharp edges and jarring turns. As such, I buried my head in the sand as the calendar reminded me our time was running out.
During our final weeks of summer, we tiptoed back into the realm of knowing what day it is with a daily routine of driving my freshman to and from (outdoor, socially distanced, masked) marching band practice. I quickly realized that five months of this free-form existence had resulted in a newfound intolerance for rushing that felt more like an anaphylactic allergy.
Barking orders at my shoeless and bewildered youngest child to herd the dog into the car so we wouldn't be late for pickup (the family pet has also adapted to a new reality of laziness and constant togetherness), I felt as though I had traveled back in time to greet my frantic, irritable, and perpetually tardy 2019 self. I was not impressed. What would happen when we plunged back into school, whether remote or hybrid?
This fall, our district promised, remote learning would be "much more rigorous with higher expectations" than the "sleep late and take it at your own speed" springtime variation. A late summer New York Times piece asked parents if they were worried about their kids falling behind. I land squarely in the camp of Mary Elizabeth Williams, who recently wrote "Why I'm OK with my kids 'falling behind' in school during the pandemic" for Salon: my answer is a resounding "no." I am not worried about academic backslide. I am worried about a sane and appropriately paced transition into an unprecedented school year.
I shadowboxed my way into the first week of school, prepared to advocate for ease, sanity, and flexibility. I had confrontational fantasies with administrators, arguing for decreased academic pressure, praising our collective retreat from a crazy and unsustainable pace of life. Surely I wasn't the only Gen X parent (or teacher!) ready to integrate a "good enough" philosophy into our school year? We can't go back to 1986, but we can't go back to 2019 either.
We muddled through the first month of hybrid (9th grader) and remote (4th grader) learning—parts of it were better than I imagined, others worse. Some days were sweetness and snuggling and neighborhood walks during extra-long lunch breaks. Other days I scrambled to drive my 9th grader to in-person learning and marching band with my 4th grader plugged into my phone in the backseat so she didn't miss any Google meets.
Those days were a blur of log-ins and pick-ups and drop-offs—the frantic shuffling between Chromebook and iPhone in the ten-minute drive felt like an un-fun episode of The Amazing Race. There was a thrum of adrenaline beneath the daily transitions we were woefully unaccustomed to. Ridiculous or not, the stress response was very real.
I vacillated between my roles of life coach and administrative assistant with comedic absurdity, sometimes fetching pencils and printing PDFs out of one of six Google classrooms, sometimes giving massages after completing math worksheets (I wish I were joking about that one). I gave pump-up speeches, administered brain gym activities, diffused essential oils, and refilled water bottles like a boxing coach hopping into the ring between rounds.
On a particularly difficult Monday morning, my boss, I mean, 4th grader, was not responding to any of my positive strategies. I felt my blood pressure rising as she floundered on the floor, writhing like a person possessed by a demon in a B movie.
"What do you want?" I asked with desperation, an edge creeping into my voice. She looked ready to boil over.
"Summer!" she exploded. "I want to go back to summer!" That made two of us.
Luckily, we were at least able to preserve the temperatures, and despite a Labor Day snowfall after a 95-degree weekend, we returned to summer weather for the entire month of September. I persuaded my husband to keep the backyard pool filled; by now, the kids were over it, but I relished my frequent Vitamin D/serotonin soaks.
At the end of the week five, we suffered through one of the most ridiculous hamster wheel school days to date, and practically high-fived at the end of every miserable transition. I was outside doing yard work at 3:15 when my daughter flung open the door triumphantly and gazed at me with the sparkle in her eyes of someone who had just received very, very good news.
"Is it over?" I gasped breathlessly. She nodded, squealed, and ran into my arms for a hug. "We did it! We made it!" I crowed. Reader, be assured: I am fully aware of the absurdity of this melodrama and assure you I am not exaggerating for effect.
I threw on a swimsuit, tore the cover off the pool, and fell back onto my round terry cloth raft with "Calgon, take me away"-esque finesse. I nearly fell asleep, letting my body melt into the pool float and feeling the hectic burn of the day dissolve into the semi-frigid waters.
I don't know where the school year will take us. Ideally, our rhythm will ease, we will find a comfort and structure to our days and savor the moments of downtime. I hope that our summer months of being paint-splattered, grass-stained, and pitifully unwashed will carry us through the unknown with a little bit of 1980s resilience and a greater appreciation for mediocrity. We're going to need it.
This article was originally published on