13 Things Plus Size People Can Totally Wear (Even Though We Aren't 'Supposed To')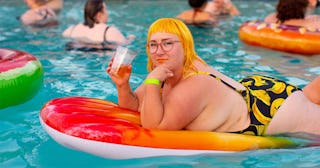 AllGo/Unsplash
I've been fat for my entire life. Every single time I've ever gotten dressed, I've been dressing a fat body. For a long time, I thought that because of my body size, my job was to be as invisible as possible. In my mind, my body wasn't worthy of beautiful garments that made me feel opulent and pretty. Fat bodies, to me, were second-class and undesirable. Our clothes were a service to the world. They covered our bodies so nobody else would have to be subjected to them.
I have since realized what a total load of BS that dismal mindset was. I am on a constant journey to fully love my body, and I don't pretend to have arrived. But I am at peace with my body, no matter what size it is. And now that I love living in my body, I have embraced my absolute right to dress it however the hell I want.
I wear what I want, when I want, where I want, and I make no apologies.
Unsurprisingly, my personal confidence hasn't managed to change society's general consensus. A fat person can't turn around without seeing suggestions of ways to "flatter" our bodies. That's a nicer way of saying, "Look as thin as possible."
Screw that. Looking thin isn't possible for me or many, many other fat people no matter what we wear. If we take away that goal, it opens up a whole world of fashion possibilities to us.
Wait…you mean we can wear whatever we want!? Hell yes we can!
Want proof? Here are some gorgeous peeps in larger bodies wearing just a few of the things conventional fashion wisdom says people can't wear well unless they're thin.
Fat people are notoriously shy about swimwear because society tells us our bodies don't look good in swimsuits.
Well, someone forgot to tell this delicious mermaid that bikinis are only for thin bodies. Ariel who? This looks amazing.
Everyone knows that fat bodies should remain fully dressed at all times.
It's just a fact that plus-size bodies aren't sexy in lingerie, like at all. Oh…wait…
Current plus-size fashion gives us tons of opportunities to show a little skin.
We are totally allowed to take them. I mean, we could hide our beautiful skin, but like, why, though? Who will ever miss the back of their dress if they can wear this instead?
Fat bodies belong in athletic clothes.
We work out, and we deserve proper attire. Also, we run to Target to drink milkshakes disguised as coffee drinks while we shop in the dollar section with zero intention of hitting a gym like everybody else. Everyone knows leggings and yoga pants are the uniform for that activity no matter what size you wear.
Did someone say stripes for every body size?
Every fashion magazine our moms read in the '80s warned us not to put horizontal stripes on anything we are trying to minimize. Guess that means horizontal stripes are perfect for maximizing our curves exactly as they are. Here. For. This.
Loud prints don't flatter a large body?
Tell that to this total babe who is rocking leopard print better than an actual freaking leopard.
https://www.instagram.com/p/B7mXY10gZb4/
Curvy bodies don't have to be feminine.
Androgynous fashion is for bodies of all shapes and sizes.
See through clothing is just for thin women, right? WRONG.
See through clothing is for fat bodies, thin bodies, male bodies, non-binary bodies…all the bodies can wear fabric that shows what we're working with underneath our clothes.
Short hair, don't care.
Except I totally care because Lindsay Wolf is giving me life with her newly cropped locks. Hello.
We don't always have to be dressed like we are on a runway to compensate for our larger body size.
We aren't inadequate. There's nothing to compensate for. We can wear casual lounge wear and look effortless and comfy, like every other kind of body.
Bold hair and makeup are not just for thin bodies.
You have no obligation to be subtle. It's not "too much" just because it's paired with a fat body. If you love it, it's just enough. On the flip side, you don't have to put on one single drop of makeup if you're not into it. You're not a "bad body" with a pretty face. You're pretty head to toe.
Speaking of toes, high heels are for every foot.
I mean, not my feet because mine are attached to the clumsiest human on earth, but every foot that wants to wear a high heel can and totally should.
If you're looking for the cutest accessory of all, try wearing your very own baby.
There are tons of great options for big bodies now, and a lot of babies love it. Give your arms a rest and strap that cute little nugget to your big, beautiful body.
There you have it. Bodies of all sizes can and do wear whatever we feel great wearing, head to toe. You're allowed to throw away the rule book. Fashion is for everyone. The only things you can't wear are things you don't want on your body. Everything else is an option for you.
You've only got one body and one life. Wear whatever you want. Life is too short to settle for clothes you don't like.
This article was originally published on