#WearOrange And Remember That We Can Stop Gun Violence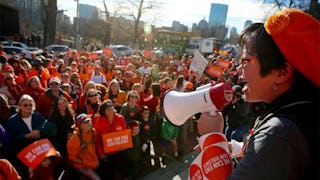 Image via Everytown for Gun Safety.
Victims of gun violence honored on Wear Orange day
When 15-year-old Hadiya Pendleton's life was cut short, her friends and family vowed to help end gun violence. What started as a memorial to their friend has turned into a national movement to "Wear Orange" on June 2 to protect human lives and raise awareness about gun violence in America.
On an average day in the United States, 93 people lose their lives because of gun violence, according to data from the U.S. Centers for Disease Control and Prevention. In January 2013 at Harsh Park, Hadiya was one of those Americans. She was shot and killed by a random bullet. "Hadiya was a really laid back, funny young lady," Hadiya's mother, Cleopatra Cowley-Pendleton told Scary Mommy. "What I miss most about Hadiya is the laughter [and] the stories she used to tell." The teen was a King College Prep High School honor student and band majorette. She performed at President Obama's second inauguration.
"I thought she was absolutely beautiful and I remember thinking 'I can't wait to see how she's going to be in college, defining who she was as an individual,'" Cowley-Pendleton shared. Hadiya's mom remembered how one of her daughter's friend made the trip from Florida to Chicago for the funeral because "she was my best friend." When he arrived, he found a church filled with people who also counted the teen as one of their closest friends. "She had a beautiful way with people," Cowley-Pendleton explained. "Her friends were completely shocked and devastated." To raise awareness about the tragedies that happen daily as a result of gun violence Hadiya's friends wore the color orange.
Hunters wear the color orange during season, so other shooters don't hit them instead of an animal. "As young people, they concluded 'let's wear orange and protect human life,'" Cowley-Pendleton said. "They wanted to start a 'Don't Shoot Me' campaign and bring people together." Years later, the campaign has resulted in hundreds of events across America all held this weekend. Everytown for Gun Safety partnered with Hadiya's friend, Nza-Ari Khepra, who jump-started the initial concept, to increase support for the goal: end gun violence and honor those who've lost their lives. You've probably seen Barack Obama, Julianne Moore, or Kim Kardashian West sporting a Wear Orange shirt as they're all advocates for the nonprofit.
"It's a national moment to honor survivors and remember victims. It reminds us that we all have to do more to prevent gun violence," explained Everytown for Gun Safety Press Secretary Taylor Maxwell. "Wear Orange also tries to provide hope that there are solutions to this problem. It's a chance to stand up and say 'we can end gun violence and this issue is winnable, and we will be here until we win." Victims and survivors of gun violence are just like every other mom and dad: they're providing the best life for their families and never expected to experience the unthinkable. Which is the exact reason Cowley-Pendleton urges everyone to attend a Wear Orange event. "Let's stop trying to put a limitation on who is affected by gun violence," she said. "Even if it isn't your child who dies, it still affects them. Their friend passed away, and they had just been laughing together the day before. It robs them of their childhood."
This article was originally published on