Wedding Bouncy Castles Are A Thing Now, So Time To Get Married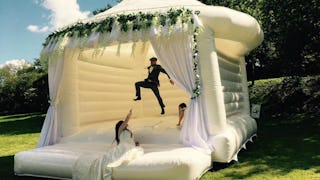 Image via A Wedding Wonderland/Facebook
Even if you're already married, have another wedding, because you need this bounce house
Dancing down the aisle to the latest pop song is so 2009.
There's a new wedding trend in town, and you're going to want to jump right on this one. Get it? Jump? Because it's wedding-themed bounce houses. You're welcome. I'll be here all week.
A UK-based event company called A Wedding Wonderland has gained some viral fame ever since the internet discovered the all-white, customizable bouncy castles it has on offer for your big day.
But a quick Google is all it takes to see that these are not exclusive to that one rental spot — more than likely you can find a company offering wedding-themed bounce houses near you. The one owned by A Wedding Wonderland can be customized by your decorator or planner to fit your theme, which is a great feature, but the important thing here is that it's full of air and will entertain every kid — and adult after a few rounds of toasting champagne — in the most memorable way.
If you're already married, time to plan a vow renewal. And if you're not married, get on that ASAP. This is the best reason for a wedding since, well, love, I guess. It's unique, it's fun and it's a great way to set your big day apart.
You just know everyone will be talking about the wedding with the big, white bounce house for years to come. Let's just hope it's not because a drunk groomsman barfed in it.
While wedding trends definitely tend to come and go, this is one we can see sticking around for a while. Because let's face it — weddings are boring as h*ck for kids, and this gives them something to do that will make sure they have a great time, and that they get their energy out in a super positive way. And after all the kids bounce themselves to a 6 p.m. bedtime, the grownups get to take over. Just think of the wedding photo opportunities in one of these things.
In short, there's no good reason not to have a white, wedding-themed bouncy castle on hand when you say "I do." Unless, of course, you hate fun. And no one actually hates fun, right? Right.