Wedding Dress Parties Are A Viral Trend, And We Are Here For It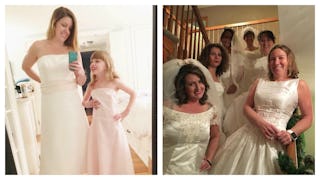 Jen Lilienthal Fraiser/ Christine Burke
When my friends and I first hatched our plan to wear our wedding dresses on New Year's Eve, we had no way of knowing just how many women were dying to put their dresses on, too.
Though we've all been friends for a long time, none of us knew each other when we could actually fit into our dresses. A few years ago, we had the idea to bring our wedding albums to our annual New Year's Eve party. We spent hours sitting with glasses of champagne and laughing our asses off at our bridesmaid dress choices, flowers and the amount of hair our new husbands had back then.
Walking down memory lane via our wedding albums together was a blast and, a few years later, my friend Suzanne decided we should take it to the next level. While on a group run, she convinced us to dig out our wedding dresses from the recesses of our attics and closets and wear them to this year's New Year's party.
So, basically, we can all thank Suzanne for bringing us the best party idea ever.
And, considering that the average wedding dress costs upward of $1,500, it's ridiculous that we are shoving our gorgeous frocks into our attics, never to be worn again.
After I posted the hilarious pictures of us barely able to zipper our dresses up, women flooded my Facebook post with comments about how much they wanted throw the same kind of party.
To everyone who commented, I told them to run, not walk, to their closets and plan their party ASAP. Because, ladies, wearing your veil never gets old, even if it's been 20 years since you last did so.
And to my surprise, women are throwing wedding dress parties all over the country and we are here for it 100%.
These women are looking stylish AF:
Uhm, would someone invite me to their next wedding dress party? My dress doesn't fit anymore so I won't have to worry about devouring all of those yummy treats.
https://www.instagram.com/p/YELhwqvjt9/?tagged=weddingdressparty
Wedding besties really are the best, aren't they?
One mom even took one step further: she included her daughter in on the fun!
Jen Lilienthal Frasier of Once More Photography tells Scary Mommy that she and her daughter laughed hysterically as they tried together to zip Frasier's dress.
"We were laughing so hard as I kept yelling at her, "ZIP IT!! ZIP IT!!" and she says of the picture, "I'm holding it up but alas, it would not zip up once we 'hit rib'," she recalls.
Wearing your wedding dress again is not only a fun way to reminisce, but it's also a way for your friends to "attend" your wedding. As my friends and I wore our gowns, we detailed the stories that led to the stains on our dresses since almost all of us had wine stains on the front of our gowns. We laughed as our husbands stared in disbelief when we came down the stairs, too. They couldn't believe their eyes and we are still not sure it was in a good way, either, truth be told.
And moms can't get enough of this trend, either. The Dunedin Moms Group in Dunedin, Florida has an event planned next month for their members to break out their wedding gowns in the name of fundraising for a local women's shelter.
When member Caroline Sakla saw the Scary Mommy article, she instantly knew it would be a blast to gather her mom friends for a night of hilarity in their wedding gowns. She posted the article in the group with the caption "Maybe for our next MNO?" and, she says, "I couldn't believe the traction the event received. People instantly started commenting so I decided we had to really do it!"
They have raffle donations and will be dancing the night away while raising money for the moms in their community. We can't wait to see their pictures. Because wedding dresses and raising awareness for women's issues are always in style.
My friends and I had so much fun at our party that we are already trying to figure out where we will wear them next. One mom has taken a wedding dress party to a new level of awesome that we are considering:
I'm pretty sure I'm going to start wearing mine to the grocery store and PTA meetings. Because life is too short not to break out your wedding dress once in a while.
This article was originally published on