Cancer-Causing Weed Killer Ingredient Found In Dozens Of Cereals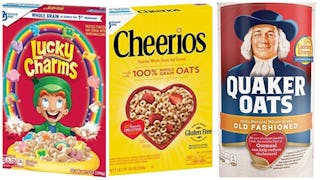 Image via General Mills/Kelloggs
Cheerios, Lucky Charms and more were found to contain glyphosate, a common weed killer ingredient
Testing done by a nonprofit that says it wants to hold corporations accountable has reportedly shown high levels of a weed killer ingredient in cereals, including Cheerios, Lucky Charms and Quaker Old Fashioned Oats. The ingredient, glyphosate, was classified as a "probable carcinogen" by the World Health Organization in 2015, though there are large corporations fighting that label, because of course there are.
According to Fox 32 News, this revelation comes just days after a jury at the Superior Court of California awarded $289 million in damages to Dewayne "Lee" Johnson, a groundskeeper who sued Monsanto after claiming the weed killers he used containing glyphosate caused him to develop non-Hodgkins lymphoma. Johnson's case was the first of about 4,000 people who claim the weed killer caused their cancer, and plan to sue the companies that use glyphosate in their products.
45 food items were tested by nonprofit Environmental Working Group in their recent study, and almost three-fourths of them were found to have levels of glyphosate that EWG says may be dangerous to children, though they are below the levels accepted by the EPA. The makers of the cereals that were found to contain glyphosate cited EPA regulations in saying their food is safe. Some of the cereals found to contain the ingredient are Cheerio's, Lucky Charm's, Kellogg's Cracklin' Oat Bran and Quaker's Old Fashioned Oats.
'The EPA has researched this issue and has set rules that we follow as do farmers who grow crops including wheat and oats. We continue to work closely with farmers, our suppliers and conservation organizations to minimize the use of pesticides on the crops and ingredients we use in our foods," General Mills said in a statement.
This research is new, and it doesn't necessarily mean you should raid your pantry and throw out all the Cheerios. But it's worth noting that Monsanto, glyphosate's most vocal supporter in arguments over whether the chemical actually does cause cancer, has been accused of using an EPA contact to kill reports linking the ingredient to cancer. And anyway, breakfast cereals tend to be highly processed with tons of added ingredients and high sugar, so maybe this is just the push we all need to pick a healthier breakfast.
This article was originally published on