Wendy Williams Postpones Show's 13th Season After COVID Diagnosis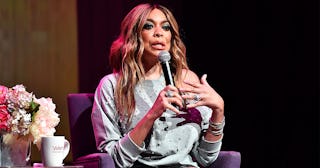 Paras Griffin/Getty
Wendy Williams tested positive for a breakthrough case of COVID and her 13th season is now being postponed
Talk show host Wendy Williams has been diagnosed with a breakthrough case of COVID, which means she caught the virus despite being vaccinated. Her show announced the bummer news today and explained that her diagnosis will mean a delay for the beginning of the show's 13th season.
The new season of The Wendy Williams Show was scheduled to begin September 20th but will now be moved to October 4th. The show's Instagram account shared: "While continuing her health evaluations, Wendy has tested positive for a breakthrough case of COVID-19."
The message continues: "To allow Wendy time to quarantine and fully recover and to ensure that our production abides by the SAG/AFTRA and DGA Covid protocols, we expect to begin the 13th season of The Wendy Williams Show on Monday, October 4th. In the meantime, repeats will be scheduled."
The news comes on the heels of a concerning post from the show's account last week that explained that Williams is "dealing with some ongoing health issues and is undergoing further evaluations."
At the time, it sounds like the plan was for the season to begin on September 20th, as planned. "She will not be able to complete her promotional activities next week, but can't wait to be back in her purple chair on Monday, September 20th for the 13th season premiere."
Sadly, that is no longer the case with the show shutting down so Williams has time to recover.
While it sounds like Williams had since changed her mind, she previously expressed doubt in the COVID vaccine telling Dr. Oz she wasn't planning on getting it. "No. I don't trust it," she told him in March. "I've never gotten the flu shot either, though, and you and I have talked about that. Several of the doctors on my team have told me, 'Wendy, get the flu shot.' I've never had the flu. I'm not getting a flu shot. I very rarely get a cold. I never have headaches. I don't take aspirin because I feel my heart murmur or something like that. I'm not getting — no! I don't trust it. There, I said it."
Hopefully, having had the vaccine will mean Williams recovers more easily from a virus that's sending thousands of unvaccinated people to the hospital. The delta variant changed everything after the vaccine brought hope earlier this year that the pandemic might finally be fading away. Now, hospitals are once again filling up and even the vaccinated are becoming ill, though the majority of deaths and hospitalizations are still in the unvaccinated. In fact, a recent statistic shared by the CDC states that unvaccinated people are 11 times more likely to die of COVID-19.
Here's hoping Williams makes a speedy recovery and is back in her purple chair on October 4th.