'Prison Break' Star Shuts Down Fat-Shaming Meme With Powerful Post About Depression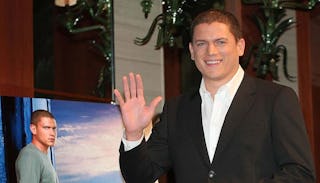 TOKYO - DECEMBER 17: Actor Wentworth Miller attends the "Prison Break" press conference at Park Hyatt Tokyo on December 17, 2008 in Tokyo, Japan. The new series of the TV drama will be released in summer 2009 in Japan. (Photo by Koichi Kamoshida/Getty Images)
Wentworth Miller shares a Facebook post about depression
Wentworth Miller found himself the subject of a cruel meme this week, and decided to address it head-on in a candid Facebook post. The former Prison Break and current DC's Legends Of Tomorrow actor wrote a powerful message about depression, suicidal thoughts, and recovery that is now going viral.
"In 2010, semi-retired from acting, I was keeping a low-profile for a number of reasons. First and foremost, I was suicidal," Miller writes. "This is a subject I've since written about, spoken about, shared about. But at the time I suffered in silence. As so many do. The extent of my struggle known to very, very few."
The meme features two photos side by side of Miller: one in his muscular, Prison Break days, the other from 2010 — a time when he'd taken a break from acting. It was posted with the caption, "When you break out of prison and find out about McDonald's Monopoly." He describes the time when the photo was taken as "the lowest point" in his adult life. "I was looking everywhere for relief/comfort/distraction. And I turned to food. It could have been anything. Drugs. Alcohol. Sex. But eating became the one thing I could look forward to… And I put on weight. Big f–king deal."
He remembers exactly when the shot was taken: he was hiking with a friend when they crossed paths with a film crew shooting a reality show. The paparazzi was present, and started circling: "They took my picture, and the photos were published alongside images of me from another time in my career. 'Hunk To Chunk.' 'Fit To Flab.' Etc."
He admits that at a time when he was struggling with his mental health, seeing images like that pop up on news stands was the "last thing" he needed. But now, Miller says he's glad the pictures survived, because it reminds him of just how strong he was to get through that time: "Now, when I see that image of me in my red t-shirt, a rare smile on my face, I am reminded of my struggle. My endurance and my perseverance in the face of all kinds of demons. Some within. Some without.
"Like a dandelion up through the pavement, I persist."
If only we could all look at our struggles the same way: thank our bodies for getting us through. Look back on hard times and see a person who survived and be proud of that person.
"The first time I saw this meme pop up in my social media feed, I have to admit, it hurt to breathe. But as with everything in life, I get to assign meaning. And the meaning I assign to this/my image is Strength. Healing. Forgiveness. Of myself and others." Miller ends his post with a list of resources for those who are struggling with depression:
www.suicidepreventionlifeline.org www.activeminds.org www.thetrevorproject.org www.iasp.info
Miller could have ignored the meme. Instead he brought it to light for the sole purpose of reaching out to others who may be going through a dark time. That is strength. That is power. That is amazing.