Wet Seal Is Back With More Body Positive Options
by Jerriann Sullivan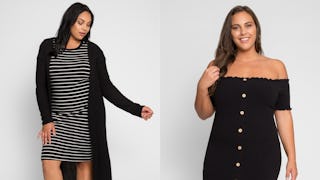 Images via Wet Seal
Wet Seal relaunched with more body positive choices
Many of us were crushed when Wet Seal closed all of its retail locations last year, but the iconic store is back and better than ever thanks to its focus on body positive clothing choices. Though Wet Seal will now be an online-only store, we're still thrilled to see that they're not gone forever.
I still remember spending countless hours inside various Wet Seals in malls across South Florida, but the times are a changing. Fewer brands are able to justify the immense costs of running brick and mortar stores, especially when most of their customer base is shopping online. This conundrum is what led the retailer to shut down its stores in January 2017. But they're back with a new online storefront offering tons of affordable pieces. The brand is also relaunching its most popular category: plus-and curve-size clothing, which is fantastic.
Earlier this month the brand re-introduced Wet Seal Plus & Curve with almost 200 pieces including some very cute dresses, cardigans, and shirts not to mention the bodysuits and trousers. Sizes run from XL to 3XL for most pieces, which also happen to be priced in the affordable range. It's going to be a struggle for us not to buy one of everything.
Die-hard fans "demanded the comeback" of the immensely popular line of body positive clothing, Cosmopolitan reported. So, naturally, they gave the people what they wanted: cute clothes that fit the average American woman, which, if you didn't know, wears a size 16. Lots of retail establishments have ignored this fact and continued only to produce clothing for a minority of the population. Thankfully, Wet Seal is too smart for that nonsense.
Prices range from $10 to $42 depending on the piece. Whether you're still in need of the perfect summer dress or you're already stocking your closet with new sweaters and coats for fall, you'll want to check out their collection.
This article was originally published on